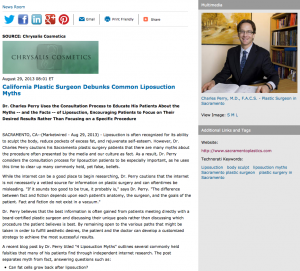 Dr. Charles Perry uses the consultation process to educate his patients about the myths—and the facts—of liposuction, encouraging patients to focus on their desired results rather than focusing on a specific procedure.
Sacramento, CA – Liposuction is often recognized for its ability to sculpt the body, reduce pockets of excess fat, and rejuvenate self-esteem. However, Dr. Charles Perry cautions his Sacramento plastic surgery patients that there are many myths about the procedure often presented by the media and our culture as fact. As a result, Dr. Perry considers the consultation process for liposuction patients to be especially important, as he uses this time to clear up many commonly held, yet false, beliefs.
While the internet can be a good place to begin researching, Dr. Perry cautions that the internet is not necessarily a vetted source for information on plastic surgery and can oftentimes be misleading. "If it sounds too good to be true, it probably is," says Dr. Perry. "The difference between fact and fiction depends upon each patient's anatomy, the surgeon, and the goals of the patient. Fact and fiction do not exist in a vacuum."
Dr. Perry believes that the best information is often gained from patients meeting directly with a board-certified plastic surgeon and discussing their unique goals rather than discussing which procedure the patient believes is best. By remaining open to the various paths that might be taken in order to fulfill aesthetic desires, the patient and the doctor can develop a customized strategy to achieve the most successful results.
A recent blog post by Dr. Perry titled "4 Liposuction Myths" outlines several commonly held falsities that many of his patients find through independent internet research. The post separates myth from fact, answering questions such as:
Can fat cells grow back after liposuction?
Do patients need to lose weight before liposuction?
Can patients return to work the same day as their procedure?
Is laser liposuction always the best option?
Dr. Perry says liposuction is one of many tools or techniques that can be used to achieve a positive result and is most helpful in achieving a more contoured figure for patients that are already near their ideal weight. As Dr. Perry highlights, liposuction should always be considered as a weight loss tool—the procedure is never an end in and of itself. He says, by remaining open to other surgical and non-surgical approaches during the consultation process, patients have the best chance at attaining their aesthetic goals.
About Charles Perry, MD, FACS
Dr. Charles Perry is a graduate of the University of Puget Sound and earned his medical degree from the University of Washington. He is a board-certified plastic surgeon, and is a Diplomat of the American Board of Surgery and a Fellow of the American College of Surgeons. Dr. Perry is available for interview upon request.
For more information about Chrysalis Cosmetics, visit sacramentoplastics.com or facebook.com/ChrysalisCosmetics.