What Is a Breast Lift with Implants?
A combination of breast augmentation and breast lift surgery, breast augmentation with lift can enhance the size, shape, and position of the breasts in one operation. Also known as breast augmentation mastopexy, a breast lift with implants, or a breast augmentation with lift, this method can provide more comprehensive results for patients who would like fuller or larger breasts but who also experience breast ptosis—the medical term for sagging. An increasingly popular procedure, breast lift with augmentation is designed to improve the appearance of the breasts in multiple ways. Dr. Charles Perry, our board-certified plastic surgeon, customizes this approach to suit the unique needs and desired outcome of each patient. During your initial consultation, Dr. Perry can help you determine if breast augmentation, breast lift, or a combination of the two can optimize your results.
To learn more about breast lift with augmentation surgery, please contact our office today. We can answer your questions and help you schedule a consultation.
Am I a Good Candidate for a Breast Lift With Implants?
There are many influences that can change the shape of the breasts over time. Pregnancy, breastfeeding, weight gain and loss, genetic predisposition, and the natural process of aging can affect the position and volume of the breasts. The supportive internal scaffolding also can relax and allow the nipple and areola to descend off of the breast itself and may end up pointing towards the ground. If you've noticed that your breasts have descended on your chest, have lost volume (appear "deflated"), or lack the fullness and lift associated with youth, breast lift with implants may be right for you.
During your initial consultation, Dr. Perry will evaluate your anatomic concerns and discuss your cosmetic goals. It's important for you to be in good general health to undergo this procedure and have reasonable expectations. This procedure is often reserved for women who have completed their childbearing plans and are finished breastfeeding. It is also a good idea to be at a weight that is easy to maintain so as to preserve the results of the lift. After determining which technique can help you achieve your desired outcome, Dr. Perry will then customize a treatment plan to optimize your results.
*Disclaimer: If you are a smoker, you MUST DISCONTINUE smoking a minimum of 4 weeks BEFORE & AFTER SURGERY. A nicotine test will be administered.**
How to Tell if You Need a Breast Lift with Implants
It's possible in some cases to reduce or eliminate signs of sagging with breast augmentation alone, depending on the size of the breast implant and the patient's anatomical indicators, such as looseness of tissue and glandular support. However, this approach works best if the natural breasts are relatively small in size and the degree of ptosis is mild. If there is more significant skin laxity or the breasts are larger in size, using an implant in concert with a lift typically will provide the best possible result. Dr. Perry will explain all the options available to you during your initial meeting.
Breast Lift Vs. Breast Augmentation with Lift
Both a breast lift and breast augmentation mastopexy can elevate the breasts to achieve a more youthful appearance, but there are some important distinctions between these two procedures. A breast lift simply lifts the breast, trims away excess tissue, and repositions the nipple. What it cannot achieve is increased fullness or size. In some cases, women may see their breast size decrease a small amount after a breast lift. If volume loss and size are concerns for you, a breast lift with implants can often provide the effects you're looking for. Dr. Perry will go over all of the benefits of each approach, helping to guide you toward the ideal technique for your expressed goals.
What Happens During the Breast Augmentation with Lift Procedure?
Breast augmentation with lift surgery is very similar to breast lift surgery with the addition of an implant. Therefore, the number and size of the incisions will depend on the type of lift you receive. There are three main breast lift techniques—concentric, "lollipop," and "anchor-shaped"—and Dr. Perry will discuss which one offers you the best outcome. You can read more about each approach on our breast lift page.
Another consideration will be the type of breast implant to use. Again, there are many choices here, including saline and silicone, round and shaped, as well as textured and smooth. Dr. Perry will explain the merits of each option and provide guidance to help you make your final decision. To determine the ideal size for your goals, you may "try on" the implant and see how it looks. The most important part of this process is that you feel comfortable and heard. We understand that this experience is exciting, but we also recognize that the number of choices can seem a bit overwhelming sometimes. If you have any questions, we hope you won't hesitate to ask.
What Can I Expect During Recovery from Breast Lift with Implants Surgery?
Most patients will need approximately one week to 10 days of recovery time before resuming normal daily routines following breast lift with implants surgery. The exact length of time will vary from patient to patient depending on each individual's unique needs. Swelling and bruising in the breasts can be expected during recovery; however, these effects should dissipate as healing progresses. Discomfort during the recovery process can be managed with medication. It is important to refrain from strenuous activities or heavy lifting for a minimum of four to six weeks, or as recommended by Dr. Perry in his post-operative instructions, in order to avoid the potential for compromising the healing process and the final aesthetic results.
Our Patient Photos*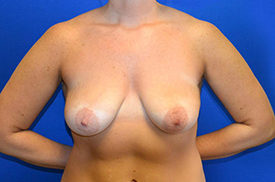 Before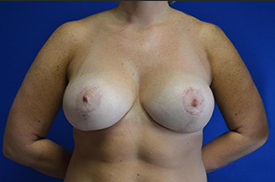 After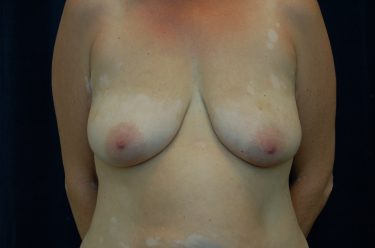 Before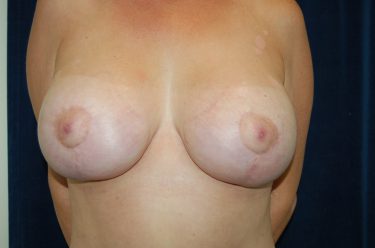 After
How Noticeable are Breast Lift with Implants Scars?
The noticeability of scars from breast lift with implants surgery varies from one patient to another depending on the particular surgical technique utilized during the procedure. In many cases, the breast implants can be placed through the same incisions created for the breast lift component of this procedure, eliminating the need for additional incisions. With that in mind, there will likely still be some degree of noticeable scarring. Fortunately, Dr. Perry is extensively experienced with this procedure and will work diligently to ensure that residual scarring is kept to a minimum. In many cases, scars fade to some degree over time, and they are typically placed in areas that are easily concealable under clothing and swimming attire. Our practice also offers a number of advanced scar reduction therapies designed to help patients who are concerned about signs of scarring further diminish their appearance.
Things to Consider with a Breast Augmentation with Lift
We want you to have the information you need to make the best decision about your care. Dr. Perry has provided the following details so you can be well-informed about what breast lift with implants can and cannot achieve. Call us if you have additional questions.
Symmetry
Many women experience breast asymmetry—where the breasts and/or nipples are different shapes or sizes. Breast augmentation with lift can help minimize this effect, but patients should not expect perfect symmetry as the body is not naturally perfectly symmetrical.
Long-Term Commitment
While they are typically long-lasting, breast implants are not designed for lifelong use. You should be prepared to have breast revision surgery at some point in the future, either to lift the breasts due to the natural aging process or to replace the implants, as you see fit.
Breast augmentation with lift can cause permanent changes to your body
While implants can be removed, breast augmentation, breast lift, and breast augmentation mastopexy are not "reversible" procedures per se. It's important to understand how this operation will modify your body before beginning.
Financial responsibilities
Breast lift with implants is a cosmetic procedure, which means it will not be covered by medical insurance. You should be prepared to cover the cost of treatment, which includes a surgeon's fee, hospital facility fee, anesthesia fee, and other healthcare expenses. We will review the full price of your cosmetic program with you in advance. In the unlikely event you experience complications, additional fees may apply.
What Are the Risks of Breast Augmentation Mastopexy?
All surgery entails some risk, and breast lift with implants presents its own set of potential issues you should be aware of. Some things to keep in mind when making your decision include:
Implant failure
Capsular contracture (thick, hardened scar tissue formation around the implants)
Implant extrusion (an infection leading to the implant pushing through the skin)
Skin rippling (wrinkling of the implant that's visible beneath the skin)
Changes in breast sensation
Implant displacement (migration)
More generally, surgical risks include:
Post-operative bleeding
Seroma (fluid collection around the implant)
Infection
Scarring
Pain
Dissatisfaction with the result
How Much Does a Breast Lift with Implants Cost?
The total price of a full breast lift with augmentation at our practice typically ranges between $10,652 and $11,087. The total cost of a breast lift with augmentation that utilizes a donut/vertical incision technique is usually between $7,866 and $10,652. Please note that these are general averages, and the cost of the procedure is often somewhat different for each patient depending on factors such as the techniques utilized, the specific type of breast implants that are being placed, facility and anesthesia fees, the surgeon's fee, and other associated components. Rest assured that Dr. Perry is committed to ensuring that each patient has a full and complete understanding of what they can expect in terms of the overall cost of breast lift with implants surgery from the very outset. Once your treatment plan is developed during the initial consultation, a member of our team here at Chrysalis Cosmetics will calculate an estimate of the total cost and answer your questions. Our practice can talk with you about the vast selection of payment methods we accept, including plastic surgery financing arrangements through reputable companies that offer convenient and interest-friendly plans for qualified applicants. We look forward to assisting you!
For more information about breast lift with implants, or to schedule a consultation with Dr. Perry, please contact our practice today.