Women experience dissatisfaction with breast size at both ends of the spectrum, and breasts that are excessively large or heavy can cause a great deal of discomfort and self-consciousness. Dr. Charles Perry performs the latest techniques to address the issues associated with overly large breasts, including reducing the size of the areolas (pigmented area around the nipples). If you are unhappy with your breasts due to their size, a breast reduction from our board-certified plastic surgeon may help you feel more comfortable and confident in your body.
What Is Breast Reduction Surgery?
Breast reduction surgery is a procedure designed to reduce the size of the breasts to alleviate discomfort and improve self-worth. Excess fat, skin, and breast tissue are removed, and the areolas may be reduced in size to create a more proportional, flattering, and balanced effect, one that does not feel as burdensome to the woman. Breast reduction surgery often is considered a medically necessary procedure, as well as a cosmetic one.
What Can a Breast Reduction Treat?
In addition to creating greater balance between the breasts and body, breast reduction surgery can alleviate many concerns associated with having overly large breasts, including:
Chronic neck, back, and shoulder pain
Chronic skin irritation and chafing under the breasts
Activity limitations due to large breasts
Poor self-image associated with large breasts
Difficulty fitting into clothing, including bras
Who Is a Good Candidate for Breast Reduction Surgery?
In addition to desiring breasts of a more manageable and proportional size, women who are considering breast reduction surgery should be in good overall health and have reasonable expectations for what this procedure can accomplish. Furthermore, they should not use tobacco products, or they should be able to cease using tobacco products for a period before and after the procedure to ensure optimal healing.
*Disclaimer: If you are a smoker, you MUST DISCONTINUE smoking a minimum of 4 weeks BEFORE & AFTER SURGERY. A nicotine test will be administered.**
What Breast Reduction Approaches Are Available?
Breast reduction surgery can be performed utilizing one of several advanced approaches. Options include:
Inferior Pedicle Incision ("Anchor" Incision)
Often referred to as the "anchor" technique, the inferior pedicle incision is one of the more common approaches for breast reduction at our practice. One incision is made around the border of the areola, one or two are made vertically from the areola to the underside of the breast where it meets the chest (inframammary fold), and the last one is made horizontally along the inframammary fold, creating an "anchor" shape.
Vertical Incision ("Lollipop" Incision)
A vertical, or "lollipop," technique is performed by creating an incision around the areola, as well as another incision from the areola down to the crease where the breast meets the chest.
Periareolar Incision ("Donut" Incision)
The periareolar approach involves an incision made around the areola. While the incision required is minimal, this technique is typically ideal only in cases where the level of breast ptosis (sagging) is relatively mild.
What Happens During a Breast Reduction?
During the breast reduction procedure, Dr. Perry will utilize the specific technique that has been determined to be ideal for your unique needs. Excess fat, skin, and breast tissue will be removed to create a smaller, lighter, and more proportional breast, and the nipple-areola complex will be moved up to create an aesthetically appealing outcome. The areolas can also be resized and reshaped during this procedure.
Breast reduction surgery can typically be performed as an outpatient under general anesthesia. In most cases, this treatment takes approximately one to three hours to complete; however, the precise length of the procedure will depend on each patient's individual needs and the particular breast reduction technique that will be performed.
What Is Recovery From a Breast Reduction Like?
You should be able to return home the same day as your operation, and you will likely spend the next two weeks recovering at home. Bruising, swelling, and discomfort will peak in the first week and begin to decline, and we will provide medication to alleviate your pain. Dr. Perry will review the post-operative recovery instructions with you, and it's important to follow these guidelines as closely as possible for the best experience and result. You should also avoid strenuous activity for six weeks, although other forms of activity, including most job responsibilities, can be resumed after two or three weeks.
Our Patient Photos*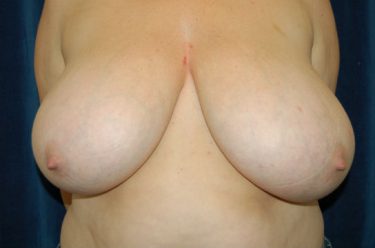 Before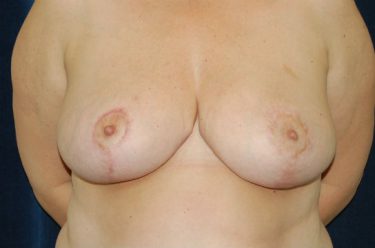 After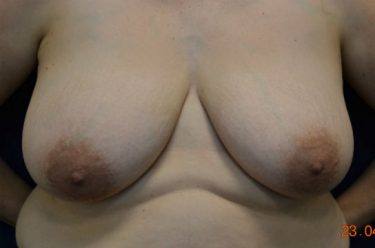 Before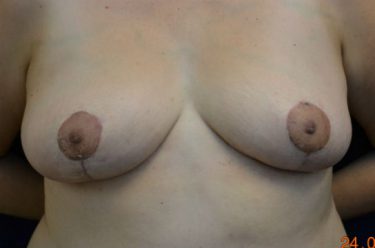 After
What Will My Breast Reduction Scars Look Like?
The precise nature of residual scarring after breast reduction will depend on the specific incision techniques utilized for each patient's customized procedure. With most breast reduction approaches, there will be noticeable scars; however, Dr. Perry will work diligently to ensure that the signs of scarring are as minimal as possible. In many cases, scars typically fade to some degree with time. Our practice also offers a range of scar reduction options that can help diminish the visible signs of scarring.
Does Breast Reduction Reduce Areola Size?
Breast reduction can also address the size of the areolas, ultimately reducing their appearance and making them more proportionate to the new, smaller breast size. A nipple/areolar reduction can also be performed as its own procedure for individuals who would like to diminish the size of the areolas without undergoing a full breast reduction.
How Much Does a Breast Reduction Cost?
The price of breast reduction surgery at our practice typically ranges between $7,000 and $9,000, and this number includes Dr. Perry's surgical fee, the cost of using an accredited surgical facility, and the anesthesiology fee. The unique parameters of your treatment plan may alter this estimate, and our medical team will review the cost of your program with you at your initial consultation. We believe providing a full, comprehensive quote gives our patients the best information from which to make their healthcare decisions. Our practice accepts a wide range of convenient payment options, and we can help you identify reputable lenders that offer plastic surgery financing if you are interested in paying for your breast reduction procedure over time.
Would you like to learn more about how breast reduction surgery may be right for you? Contact our practice to schedule a consultation with Dr. Perry and get the help you need.