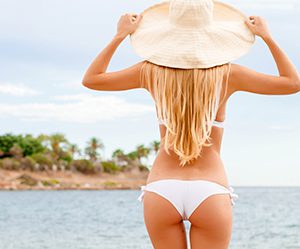 A Brazilian butt lift is a treatment that utilizes excess fat taken from another area of the body to enhance volume, shape, and firmness in the buttocks. Modifying the shape and contour of the buttocks is becoming increasingly popular. Now more than ever, patients are interested in repurposing their own natural fatty tissue to achieve their cosmetic goals. Known as fat grafting, or fat transfer, this technique allows our experienced plastic surgeon to augment the derriere with beautiful, natural-looking results. Furthermore, this method means there is no need for artificial substances or implants; although, in some circumstances, fat grafting and an implant may be recommended to enhance the outcome.
With his eye for detail, Dr. Charles Perry can provide comprehensive improvement of the buttocks as well as the hips, waist, and thighs with subtle shaping. Brazilian butt lift combines multiple modalities, including liposuction, to achieve the best possible outcome. After all, it is important to frame the bottom by optimally contouring the surrounding areas. Dr. Perry can create a customized Brazilian butt lift treatment plan designed to help you achieve enhanced body contours with exceptional results.
What Are the Benefits of Brazilian Butt Lift Surgery?
Brazilian butt lift surgery offers an array of advantages for both women and men who are considering buttock enhancement, including:
Additional volume in the buttocks to create a fuller, more rounded appearance
Enhanced shape, contour, and symmetry
Improvement of mild signs of inelastic skin and sagginess
Improved proportions between the buttocks and the body
Results that are significantly long-lasting
Enhancement of other body regions due to the liposuction component of the Brazilian butt lift procedure
In addition to its many benefits for buttock enhancement, many patients appreciate that this treatment also requires liposuction of another body area in order to produce the excess fat that will be used to augment the buttocks. This double-benefit ultimately makes it possible for more comprehensive body contouring. Dr. Perry will be happy to meet with you for an initial consultation to discuss this procedure in detail and help you determine whether it is the right option for your needs and goals.
CoolTone®
The benefits of Brazilian butt lift surgery can often be even further enhanced with a non-surgical procedure called CoolTone®. This treatment offers a state-of-the-art way to improve muscle tone and definition in the buttocks. CoolTone® can be an effective "add-on" procedure to a Brazilian butt lift for patients who may be interested in that option.
Am I a Good Candidate for Brazilian Butt Lift?
Patients who are in good general health and who desire a larger, shapelier backside may benefit from this procedure. It's important to have enough fatty tissue available to achieve your expressed goals, and if you are particularly thin, you may be asked to gain some weight prior to the procedure. Dr. Perry will evaluate your needs and discuss your objectives during the initial consultation and he will develop a customized treatment plan based on this information. Brazilian butt lift uses a combination of liposuction, to harvest the fatty tissue, and fat grafting, to accomplish the outcome. If you have excess skin as a result of weight loss or another factor, traditional buttock lift surgery may be a better choice for your needs and goals. A buttock lift can also be combined with fat grafting.
**Disclaimer: If you are a smoker, you MUST DISCONTINUE smoking a minimum of 4 weeks BEFORE & AFTER SURGERY. A nicotine test will be administered.**
Our Patient Photos*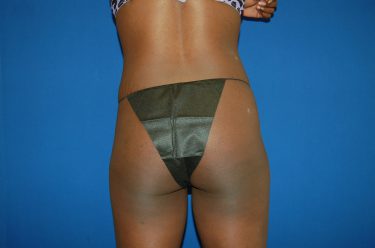 Before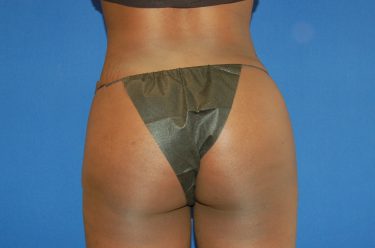 After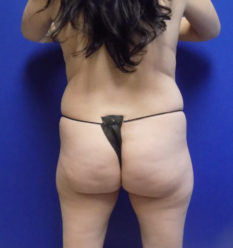 Before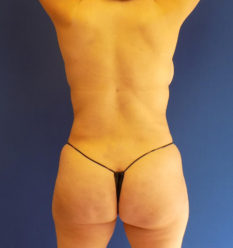 After
Brazilian Butt Lift vs. Buttock Implants
The Brazilian butt lift technique and buttock augmentation with implants are both designed to add volume to the buttocks and enhance contour and shape; however, these are two completely different procedures. A Brazilian butt lift does not involve the placement of foreign objects in the body. In fact, this treatment utilizes the patient's own fat to augment the appearance of the buttocks. By contrast, buttock implant procedures involve the insertion of silicone implants in the buttocks to give the area a fuller, more shapely look. The implant is most commonly associated with a muscular or "summer squash" type of shape often requested by people looking for a more masculine contour. The other major difference between these two procedures is the projected length of results. Brazilian butt lift outcomes typically last forever, while buttock implants may last for many years, but will likely need to be replaced or removed at some point. Buttock implants also have certain risks that do not pertain to Brazilian butt lift surgery, such as the potential for implant displacement or extrusion.
What Does the Brazilian Butt Lift Procedure Involve?
Brazilian butt lift utilizes a few advanced techniques. The first step is liposuction. Dr. Perry will discuss with you which areas of the body to target, and the fatty tissue can come from virtually anywhere on the body. Most patients choose the stomach, hips, and thighs, or a combination of these regions, but you may also benefit from focusing on other locations. Dr. Perry also takes this opportunity to enhance the shape of the areas surrounding the buttocks, contouring the waistline, hips, and thighs as needed to help produce the desired outcome. Once the fatty tissue is harvested, it is minimally processed and administered into a series of targeted sites to amplify the beauty of the bottom.
What Is Recovery from a Brazilian Butt Lift Like?
This procedure is actually a combination of modalities, therefore you will experience recovery in each of the treated areas, including wherever you received liposuction. Most patients can return home the same day as treatment, where they usually rest for a couple of weeks. Significant swelling, some bruising, and tenderness are common effects, and these symptoms should gradually fade as you heal. We will provide medication to manage your discomfort and to help provide the optimal recovery experience.
It's very important for you to not sit for extended periods, or to place excessive pressure on your buttocks for the first several weeks, in order to achieve the best possible result. You should also avoid strenuous exercise for about four to six weeks. Dr. Perry will provide additional instructions, which will be given to you before the operation.
How Long Does a Brazilian Butt Lift Last?
The length of results that can be experienced from a Brazilian butt lift is one of the major advantages of this treatment. Brazilian butt lift results often last a lifetime because the surviving fat cells utilized for buttock augmentation should never go away, ultimately allowing the rejuvenating effects of the procedure to last long into the future.
Will There Be Scars from a Brazilian Butt Lift?
The incisions necessary for Brazilian butt lift surgery are typically very small—even for the liposuction component of this procedure; therefore, residual scars are often barely noticeable. Dr. Perry will also try to place the incisions in areas that are relatively inconspicuous so that scarring can be difficult to detect.
How Much Does a Brazilian Butt Lift Cost?
A Brazilian butt lift costs approximately $8,500 to $17,000 here at Chrysalis Cosmetics. The total price for this procedure can be significantly different from one patient to another based on the areas where liposuction was performed and the extent of that part of the treatment. Other expenses that will factor into the overall price include the amount of fat that is transferred to the buttocks, the surgeon's fee, and fees associated with anesthesia, post-surgical garments, and use of the operating facility. Once your treatment plan is formulated during your first consultation with Dr. Perry, a member of our team will be able to calculate an all-inclusive price of the Brazilian butt lift procedure and go over it with you in detail. Chrysalis Cosmetics wants to make paying for treatment as convenient as possible for our patients, which is why we accept a variety of payment methods, including financing arrangements available through several reputable plastic surgery financing companies. We can talk with you about the payment options that are best-suited to your budgetary needs.
If you're interested in learning more about Brazilian butt lift, or if you would like to schedule a consultation with Dr. Perry, please contact us today.
*Individual Results May Vary