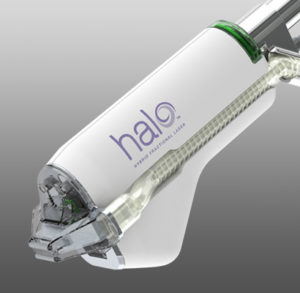 Our board-certified plastic surgeon, Charles Perry, MD, offers some of the most advanced laser skin resurfacing therapies available, including the state-of-the-art HALO™ Hybrid Fractional Laser system. This exceptional laser technique can improve an array of common skin concerns and provide effective rejuvenation without the need for invasive surgery. Plus, the HALO™ laser system does not typically require extensive downtime after treatment.
 
What Is the HALO™ Hybrid Fractional Laser? 
The HALO™ Hybrid Fractional Laser is unique among laser skin resurfacing therapies. This system combines two distinct laser techniques (ablative and non-ablative) to deliver two different laser energy wavelengths at the same time. By utilizing dual lasers simultaneously, the HALO™ system can target both superficial and deep layers of skin. With its advanced technology and precise methodology, this laser treatment can successfully renew the skin's health and appearance in fewer treatment sessions, while requiring less extensive recovery time when compared with other types of laser therapies. 
What Are the Benefits of HALO™ Hybrid Fractional Laser Rejuvenation? 
The potential advantages afforded by the HALO™ laser system are numerous, and the procedure can be ideal for virtually all skin types. Benefits of this treatment include:
Reduction in signs of wrinkles and fine lines 
Reduction in signs of mild scarring 
Improvement of skin affected by enlarged pores 
Improvement of skin texture 
Reduction in signs of sun damage, pigmented lesions, or actinic keratosis 
The treatment can typically result in more comprehensive rejuvenation 
Many patients are able to attain noticeable results in only one or two treatment sessions, and are able to return to normal daily routines within 48 hours 
The HALO™ Hybrid Fractional Laser treatment can be utilized on many body areas to address numerous common concerns. During your initial consultation, Dr. Perry will examine your skin and talk with you about your goals. If this treatment is an ideal option, he will create a customized treatment plan designed to meet your needs. 
What Does the HALO™ Hybrid Fractional Laser Treatment Involve? 
HALO™ laser treatment typically only requires a topical anesthetic to minimize any potential discomfort during the procedure. The wavelength, depth, and treatment pattern of the dual lasers will be precisely calibrated to address your specific skin concerns. The laser will deliver small bursts of energy over the targeted areas, ultimately helping to diminish damaged skin cells on outer layers while making it possible for healthier skin cells to replace them. The duration of your treatment session will ultimately depend on the size of the treatment area and the extent of concerns being addressed. 
What Can I Expect During Recovery from the HALO™ Hybrid Fractional Laser Procedure? 
The recovery process from treatment with the HALO™ laser system is often different for each patient. In most cases, patients can expect some degree of temporary redness and swelling in the treatment areas following the procedure. Some individuals may experience a feeling of tightness in the skin for several days, followed by peeling. Once Dr. Perry has determined the extent of treatment necessary for your goals, he will be able to give you more specific details about what you can expect during recovery. Many patients who have this treatment are able to resume their normal daily activities within two days. 
How Much Does HALO™ Hybrid Fractional Laser Skin Resurfacing Cost? 
The cost of HALO™ laser treatment for the full face starts at $1500, and for the hands the price starts at $650. The cost varies based on the area being addressed and whether multiple treatment areas are being addressed simultaneously (such as the face, neck, décolletage, and others). Significant discounts are available when a package or series of treatments is purchased. Ultimately, the cost of a HALO™ treatment is contingent upon each patient's unique and customized treatment plan, so it is not the same for everyone. Factors that will be taken into account when calculating the overall price of treatment with the HALO™ Hybrid Fractional Laser system include the size of the area being addressed, the extent of treatment and the number of treatment sessions necessary for optimal results, and other associated expenses. A member of our team will produce a comprehensive cost estimate once your treatment plan is developed during the initial consultation. Chrysalis Cosmetics accepts a wide range of convenient payment methods, and we work with many reputable financing companies that offer affordable payment plans for qualified applicants who would like to pay for their HALO™ laser treatment over time. We will be happy to answer any questions you may have.
HALO™ Laser Post-Treatment Instructions
Please take a look at our HALO™ laser procedure post-treatment instructions at least five days before your scheduled appointment. This guideline can help make the post-treatment healing period as smooth and effective as possible.
HALO™ Laser Post-Treatment Instructions
To learn more about the HALO™ Hybrid Fractional Laser Skin Resurfacing treatment, or to schedule a consultation, please don't hesitate to contact us today.