With aging and pregnancy the breasts can lose volume and start to sag. A breast lift from our experienced plastic surgeon is designed to elevate the nipples, areolas, and breast tissue to a more youthful position. A breast lift can be combined with breast reduction or breast augmentation procedures to address patients' unique concerns and achieve excellent results.
Who Is an Ideal Candidate for Breast Lift?
If you are over 18 and healthy, mentally stable, and realistic about the limitations of breast lift, you are a good candidate for this procedure.
Breast lift is not recommended for:
Individuals with untreated breast cancer or pre-malignant breast disorders.
Individuals with any type of active infection.
Women who are pregnant, nursing, or plan to be pregnant in the future.
Individuals with weakened or suppressed immune systems
Individuals suffering from any condition that interferes with blood clotting or wound healing
Individuals with reduced blood flow to the breasts from prior surgery or radiation therapy.
Individuals with cosmetic complaints primarily related to the volume of the breasts
These concerns may be better addressed by a breast reduction or breast augmentation. However, in many cases a breast lift is successfully combined with breast reduction or breast augmentation. Discuss your individual situation with Dr. Charles Perry.
Our Patient Photos*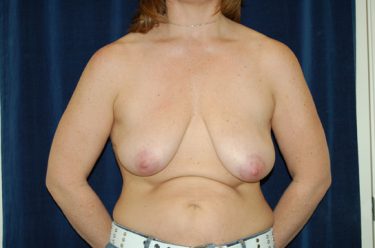 Before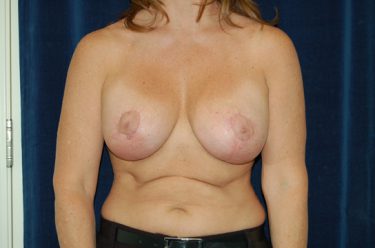 After
The Breast Lift Procedure
There are several techniques that can be used to accomplish this type of breast surgery at our practice, and the surgical method the surgeon chooses is dependent on your breast size and degree of sagging.
Concentric Breast Lift
For women with relatively small and less droopy breasts, a concentric (also called "doughnut") breast lift is ideal. In this technique, the surgeon will cut a circular strip of tissue from around the areola, the skin is removed, and then the nipple and areola are moved upward, restoring a youthful profile to the breast. *The advantage of this approach is that the incisions are relatively small, simplifying healing and minimizing visible scarring.
*Individual Results May Vary
The Lollipop Breast Lift
In a variation of the concentric breast lift, Dr. Perry extends the excision down to the crease of the breast. This incision allows more skin to be removed and the breast to be lifted more dramatically.
Anchor-Shaped Breast Lift
For women with larger breasts, the more classic anchor-shaped breast lift incision is generally more appropriate. This approach utilizes an incision around the areola, and another incision extending down to the lower breast fold. Some skin is removed and the sides of the incision are brought together, elevating the nipple and areola and giving the breasts a new shape. This technique utilizes larger incisions than the concentric breast lift but is necessary to effectively lift larger breasts.
Things to Consider Before Undergoing Breast Lift Surgery
Women thinking of undergoing breast lift surgery should consider the following:
Symmetry
If your breasts differ in size or shape going into surgery, it is unlikely they will be completely symmetrical afterwards.
Breast lift, by itself, cannot restore volume to the breasts
Breast lift can only bring your breast tissue upwards and excise excess skin. In many cases, breast lift combined with breast augmentation—sometimes called a breast lift with implants—is the best way to restore volume to the breast.
Breast lift can be performed simultaneously with breast reduction
This combination procedure is designed to reduce the size and heaviness of breasts, in addition to lifting them for a more youthful appearance.
Breast lift can reduce the size of the areolas
This is done in addition to the usual lifting of the nipple and areola during the surgery.
The results of breast lift do not last forever
While breast lift can create a more youthful looking bust line, it cannot permanently halt the natural aging process..
Pregnancy will largely negate the results of breast lift
As pregnancy stretches the breast, making breast lift not recommendable for women who may become pregnant in the future. However, breast lift will not affect your ability to breastfeed.
Scarring
Breast lift, especially the traditional anchor-shaped technique, will leave a scar. Even if you refrain from smoking and carefully follow all instructions, scars are to be expected after breast lift surgery.
Financial responsibilities
Breast lift surgery is performed on a fee-for-service basis, meaning that the surgery is not covered by health insurance. Your total surgical fee will include the cost of surgical supplies, anesthesia, laboratory tests, medications, surgery center charges, and possibly more. If you experience complications, you will incur additional expenses. However, if the complication is considered a health risk, your health plan will cover the cost of hospitalization, anesthesia, and/or additional surgery.
What Are the Risks of Breast Lift Surgery?
We encourage patients to become educated on the risks of breast lift surgery, so that they can make an informed decision about whether the surgery is right for them. Some of the risks of breast lift surgery include:
Bleeding or infection
Patients can experience a bleeding episode during or after breast lift surgery, and infection is a risk of any surgery. These complications may require a return trip to the hospital and, in the case of infection, treatment with antibiotics.
Reactions to anesthesia or surgical materials
Anesthesia-related reactions are the most common of any type of surgery. They cannot be predicted and can cause serious injury or even death. In addition, surgical materials such as tape, sutures, or medications can cause an allergic reaction. Usually this reaction is localized and easily addressed.
Numbness
Some temporary numbness is to be expected after breast lift; in some cases, this numbness will persist for months or even permanently.
Poor healing
Breast lift will leave scars, even if all post-surgical instructions are followed. However, poor healing sometimes occurs, especially if the patient smokes during the healing period. In some cases, this poor healing requires additional surgery to correct.
Risks related to breast implants if augmentation is performed
If breast implants are used to restore volume and fullness to the breasts during a breast lift, they introduce another set of risks.
Complete Pre- and Post-operative Instructions for Breast Lift Patients
Following the surgeon's instructions before and after breast lift surgery is crucial to a smooth healing period and a good surgical result with minimal scarring. We have compiled this comprehensive list of pre- and post-surgery instructions for you to reference. Study the instructions before surgery. Then, print them out and bring them with you on your surgery day.
Breast Lift Instructions (printer-friendly)
Please contact Chrysalis Cosmetics today to learn more about breast lift surgery, or to schedule a consultation.
*Individual Results May Vary