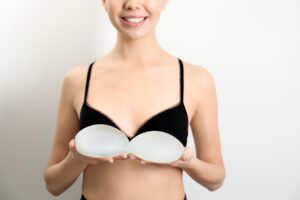 Breast augmentation is a popular cosmetic surgery designed to add volume to a patient's breasts for an enhanced bustline. Board-certified plastic surgeon Charles Perry, MD believes patients should be fully prepared with all questions answered before undergoing breast augmentation surgery. Below, he highlights five key facts patients should know before pursuing the procedure.
1. Selecting a qualified plastic surgeon is very important.
Choosing the right plastic surgeon to perform your breast augmentation is crucial. While researching surgeons, ensure they are certified by the American Board of Plastic Surgery (ABPS) and have glowing patient reviews. Take the time to examine their educational background, any related training, and awards/honors. Professional affiliations can also be considered, such as Dr. Perry's association with the American Board of Surgery, California Medical Association, and American College of Surgeons. It's essential the chosen plastic surgeon is exceptionally qualified, as they may be more likely to provide the patient with top care and results.
2. Choosing the right implants is a personalized process.
Picking the right breast implants is an individual process, as each patient has their own aesthetic goals. Beyond just deciding between silicone and saline implants, patients can choose which size, shape, and texture best fits their preferred outcome. At Chrysalis Cosmetics, there are a variety of implant types available for patients.
3. Breast augmentation cannot fix sagginess.
Breast augmentation surgery is not a solution for saggy or drooping breasts (ptosis). Rather, a breast lift is designed to elevate the bustline for a more youthful and perky appearance. For patients looking to lift their breasts and add volume, a breast lift with implants may be the ideal procedure.
4. Results likely won't be noticeable right away.
After surgery, patients may experience swelling and tenderness. Throughout the healing and recovery process, the swelling should eventually subside. This means that breast augmentation results may not be evident right away, but should become noticeable in the weeks or months following the procedure.
5. Breast implants may need to eventually be replaced.
While breast implants are meant to provide long-lasting results, they may not last a lifetime. As time goes on, implants can become more susceptible to ruptures, leaks, or other complications. If any of those issues arise, breast revision surgery allows for implants to be removed or replaced. The procedure can be utilized as an "implant exchange" if a patient's aesthetic goals change and they wish for a new type of implant or a different size or shape.
Any lingering questions on breast augmentation surgery? Contact our office to schedule a consultation.