Dr. Charles Perry, a Sacramento plastic surgeon, discusses the aesthetic, psychological, an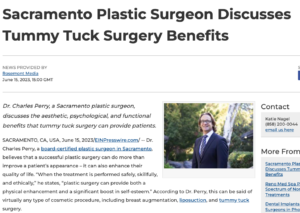 d functional benefits that tummy tuck surgery can provide patients.
Sacramento, CA – Dr. Charles Perry, a board-certified plastic surgeon in Sacramento, believes that a successful plastic surgery can do more than improve a patient's appearance – it can also enhance their quality of life. "When the treatment is performed safely, skillfully, and ethically," he states, "plastic surgery can provide both a physical enhancement and a significant boost in self-esteem." According to Dr. Perry, this can be said of virtually any type of cosmetic procedure, including breast augmentation, liposuction, and tummy tuck surgery.
Known in the medical world as "abdominoplasty," a tummy tuck is a major cosmetic surgery that focuses on the midsection. While a patient's particular aesthetic goals may vary, those seeking tummy tuck surgery usually desire a flatter, more toned abdomen, Dr. Perry explains. The procedure typically involves the tightening of lax or stretched abdominal muscles and the reduction of excess skin in the midsection.
When performed by an experienced plastic surgeon, Dr. Perry continues, a tummy tuck can provide myriad physical, psychological, and even physical benefits, such as:
A flatter, more toned midsection

A trimmer waistline 

A more aesthetically-pleasing silhouette

Improved posture

Removal of loose, excess skin or unwanted belly fat

Restructuring of torn or stretched abdominal muscles

A customizable surgery with many different strategies available (e.g. the mini tummy tuck, which addresses the area below the navel)

Reduction of back pain

Enhanced self-esteem and confidence

The ability to be combined with additional procedures (such as in a

Mommy Makeover

)
Dr. Perry reminds patients that while these outcomes are common with abdominoplasty, the chances of a successful procedure are much higher when the surgery is performed by a qualified physician. An experienced surgeon, he states, will meet with the patient to review their overall health and address their every concern and question before determining whether tummy tuck is likely to meet their aesthetic goals – and potentially their functional or psychological needs, as well. 
About Charles Perry, MD
Board-certified plastic surgeon Charles Perry, MD has been in practice for more than 25 years. An alumnus of the University of Puget Sound and the University of Washington Medical School, Dr. Perry is a Diplomat of the American Board of Surgery (ABS), a Fellow of the American College of Surgeons (ACS), and a member of several distinguished organizations, such as the American Society of Plastic Surgery (ASPS) and the California Medical Association. He and his team at Chrysalis Cosmetics offer a variety of surgical and non-surgical cosmetic enhancement procedures, from tummy tuck and liposuction to Broadband Light (BBL™) therapy and CoolSculpting®. Dr. Perry is available for consultation upon availability. 
For more information about Dr. Perry and his practice, please visit sacramentoplastics.com and facebook.com/ChrysalisCosmetics. 
Contact:
Chrysalis Cosmetics
785 University Ave
Sacramento, CA 95825
(916) 273-7435
Rosemont Media
(858) 200-0044
www.rosemontmedia.com