Dr. Charles Perry—our board-certified plastic surgeon—performs breast augmentation surgery at our Sacramento practice to enlarge the breasts using saline or silicone-filled implants. Women have a variety of reasons for undergoing breast augmentation:
Enhance body contour and enlarge breasts to a more optimal shape and size
Restore breast size and shape after loss of breast volume post-pregnancy
Balance breast size and correct asymmetry
Correct partial or total loss of the breast(s) after disease, trauma, or mastectomy
Replace existing breast implants, for either reconstructive or cosmetic reasons
There are a variety of implant choices available to patients undergoing breast augmentation. The size, shape, and texture of the implant are chosen to match the patient's anatomy, needs, and desired cosmetic outcome.
Am I a Candidate for Breast Augmentation?
If you are over 18 and healthy, mentally stable, and realistic about the limitations of breast augmentation, you are a good candidate for this procedure.
Breast augmentation is not recommended for:
Individuals with untreated breast cancer or pre-malignant breast disorders
Individuals with any type of active infection
Women that are pregnant or nursing
Individuals with a weakened or suppressed immune system
Individuals suffering from certain medical conditions
Health issues or medications that interfere with blood clotting or wound healing are problematic. Poor clotting can cause safety issues during surgery while poor wound healing can negatively affect the final outcome of surgery and cause discomfort.
Individuals with reduced blood flow to the breasts
This condition can result from prior surgery or radiation therapy.
Our Patient Photos*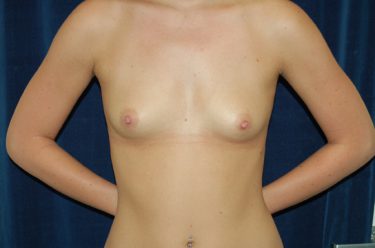 Before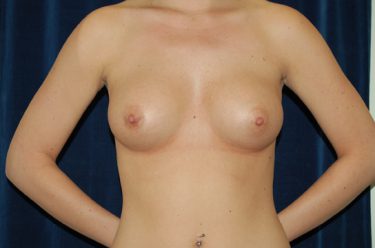 After
Breast Implants
Designed to enhance the size and shape of the breasts, breast implants come in an extensive range of models. Dr. Perry offers the most advanced implants on the market, including Sientra® and Allergan Natrelle® cohesive-gel implants. As a result, customizing breast augmentation to help achieve your desired outcome is easier than ever. As with all of our procedures, your results and safety are our primary concerns. We can guide you through the process, but the final decision will always be yours.
The Breast Augmentation Procedure
Breast augmentation is performed by inserting a breast implant, usually filled with saline or silicone solution, behind the breast tissue or beneath the chest muscles. At Chrysalis Cosmetics, Dr. Perry prefers to utilize the dual plane approach, the most common technique performed in North America. During this procedure, the implant is placed behind the pectoralis muscle, while still remaining on top of another chest muscle — a method that ensures adequate soft-tissue coverage of the implant. While the dual plane approach is best performed through an inframammary incision (made along the fold of the breast), Dr. Perry also performs breast augmentation surgery through incisions located within the axilla (armpit) or around the perimeter of each areola.
Regardless of the approach, the location of the implant — as well as its size, shape and type — are chosen based on your anatomy, preferences, and the surgeon's recommendation.
If you are experiencing breast sagging or are noticing stretch marks (diminished skin tone) on the breasts, reaching your aesthetic goals may require a breast lift procedure be performed in conjunction with the breast augmentation. The breast lift will bring the nipple and areola upward, and to excise loose skin.
Things to Consider Before Undergoing Breast Augmentation
Patients thinking of undergoing breast augmentation surgery should consider the following:
Symmetry
If your breasts differ in size or shape going into breast augmentation surgery, it is unlikely they will become completely symmetrical afterwards.
Long-term commitment
Breast augmentation with saline or silicone-filled implants is rarely a one-time surgery. Breast implants, regardless of type, are not considered to last a lifetime. Most likely, secondary surgery to replace or remove your breast implants will become necessary someday, or you may want to undergo breast lift as aging progresses.
Breast augmentation can cause permanent anatomical changes
Surgical changes made to the breasts are not always reversible. These changes may cause the appearance of the breast to become unacceptable if the breast implants are removed.
Financial responsibilities
Breast augmentation, with or without breast lift, is done on a fee-for-service basis, and as such the procedure is not covered by health insurance. Your total surgical fee will include the cost of surgical supplies, anesthesia, laboratory tests, medications, surgery center charges, and possibly more. If you experience complications, you will probably incur additional expenses.
What Are the Risks of Breast Augmentation Surgery?
While every surgical procedure involves some risk, the majority of women do not experience the following complications. However, we encourage you to discuss each risk, potential complication, and the long-term commitment associated with breast augmentation with Dr. Perry.
*Studies have shown that despite occasional problems, most women are satisfied with the results of breast augmentation surgery. We encourage patients to become well-educated on the risks of breast augmentation surgery, so they can make an educated decision about whether breast augmentation is right for them.
There are two categories of complications: those specifically related to breast implants, and more general surgical risks.
*Individual Results May Vary
Risks Related to Breast Implants
Implant Failure
Just like other medical devices, implants can break or leak. The advantage of saline implants is that in the event that it deflates, the body will safely absorb the salt water. Damaged implants cannot be fixed and must be replaced or removed during another surgical procedure. In addition, saline implants eventually wear out.
Capsular Contracture
In some cases, scar tissue forms around the breast implant, then tightens. The result is a round, firm, and sometimes painful breast. Capsular contracture is impossible to predict and can occur anytime after surgery, though it is more common when implants are placed in front of the layer of chest muscle.
Implant Extrusion / Tissue Necrosis
Infection or inadequate tissue coverage can result in the implant extruding through the skin. As the implant pushes through layers of skin, it becomes visible.
Skin rippling
While some wrinkling is normal following breast augmentation, sometimes implants wrinkle in a way that is visible and palpable. This problem is most pronounced in those with textured implants or thin breast tissue.
Change in breast sensation
*Immediately after breast augmentation surgery, it's common to experience some change in nipple sensation, similar to what happens after breast reduction. Most patients recover normal sensation in a few months. However, it's possible to experience partial or permanent loss of skin and nipple sensation, and these changes can affect sexual response or breastfeeding ability.
*Individual Results May Vary
Implant displacement
The implant may migrate or rotate away from its initial placement, which can cause discomfort or the distortion of the breast's shape. To correct this problem, additional surgery may be needed.
Risks Related to Surgery in General
Bleeding during or after surgery
Postoperative bleeding may require emergency treatment to drain the blood. To prevent bleeding, avoid taking aspirin or any anti-inflammatory medications 10 days before surgery, as well as nonprescription herbs and dietary supplements.
Seroma (accumulation of fluid around the implant)
This may contribute to infection, capsular contracture, and other problems. Additional treatment may be required to drain the fluid.
Infection
Though rare, infection is a possibility. Infection may be treated with antibiotics, removal of the implant, or additional surgery.
Scarring
Though rare, it is possible that abnormal, unattractive scars will form, requiring additional corrective surgery.
Thrombosed veins
These veins, which resemble cords, may develop in the area of the breast but will resolve without intervention.
Pain
Pain is to be expected for a short period of time after breast augmentation surgery; however, in some cases it persists. Capsular contracture, sensory nerve entrapment, or injury to tissues can cause pain of various intensities and duration.
Unsatisfactory result
A variety of factors can lead to dissatisfaction with the results of breast augmentation surgery. These include asymmetry, nipple location, unanticipated breast shape or size, and unsatisfactory surgical scar location. In some cases, additional surgery may be needed or desired to remove the implants or improve your results.
Long-term Results and Risks of Breast Augmentation
Breastfeeding
Women with breast implants are generally able to successfully breastfeed, though it is unknown whether this poses increased risks to the baby. If a breast lift is done together with breast augmentation, this will probably not affect breastfeeding either.
Breast cancer
A recent study of nearly 25,000 Canadian women found that those with breast implants actually had a lower rate of breast cancer than the general population. You should still perform periodic self-examinations, have regular mammograms, and visit a doctor if you notice a breast lump.
Mammography
The presence of breast implants can complicate mammography and can obscure the detection of breast cancer. It's also possible, though rare, for the breast compression of mammography to cause implant rupture. In addition, capsular contracture may also complicate mammography and make it more painful.
Long-term alterations in breast shape
The gradual sagging of breast tissue is a fact of life. In addition, weight loss or gain, pregnancy, and other factors unrelated to your breast augmentation surgery will affect the shape of your breasts. If your breasts are already sagging as a result of age, mastopexy (with or without breast augmentation) can be an excellent solution.
Need for additional surgery
In the future, is it possible that revision, removal, or replacement of breast implants will be needed. Each of these surgical procedures has its own risks and potential complications.
Complete Pre- and Post-operative Instructions for Breast Augmentation Patients
This comprehensive list of instructions will guide the pre- and post-operative behavior of patients undergoing breast augmentation surgery at our Sacramento practice. We recommend that you read over the instructions as soon as your surgery day is scheduled, then print them out and bring them with you on your surgery day.
Breast Augmentation Instructions (printer-friendly)
When you undergo breast augmentation at our practice, you can be assured that your results will fit your cosmetic goals, body type, and lifestyle. We seek to provide stunning, customized results, one patient at a time. Contact our cosmetic surgery practice today to learn more or schedule a consultation.
*Individual Results May Vary