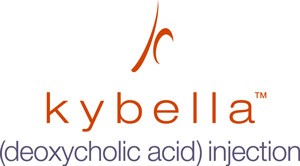 Excess fatty tissue under the chin, medically referred to as submental fat, can occur as a result of weight gain, genetic predisposition, or another factor. Often called a "double chin," this concern can be very resistant to diet and exercise. In the past, liposuction was typically the only option to effectively address this condition, and there were no non-surgical treatments available. Until now. KYBELLA™ is an innovative injectable technique FDA-approved to reduce fat under the chin without surgery or extensive downtime. Our board certified plastic surgeon, Dr. Charles Perry, offers this procedure at our state-of-the-art practice. If you're dissatisfied with your appearance due to a double chin, KYBELLA™ may be able to help.
Ready for a slimmer facial profile? Contact us today to learn more about KYBELLA™ or to schedule a consultation with Dr. Perry.
Benefits of KYBELLA™
KYBELLA™ is a revolutionary technique and the first of its kind. FDA-approved to reduce the appearance of a double chin, KYBELLA™ offers numerous benefits when performed by a skilled plastic surgeon like Dr. Perry. This procedure is a non-surgical, minimally invasive modality that can be completed in as little as 20 minutes. The effects occur gradually–for the most natural-looking outcome possible–and have the potential for extraordinarily long-lasting results.
It's important to note, not everyone will be a candidate for KYBELLA™. You must be 18 years of age or older, in good overall health, and interested in enhancing the contour of your chin. KYBELLA™ reduces fatty tissue, but it is not designed to tighten or firm the skin. If you are experiencing skin laxity as well as fatty tissue, Dr. Perry may recommend another approach.
How KYBELLA™ Works
KYBELLA™ is an injectable solution comprised of a molecule called deoxycholic acid, which naturally occurs in the human body. This molecule can be used to dissolve excess fat cells under the chin, which your body can then gradually eliminate through normal metabolic processes. KYBELLA™ can be a very effective aesthetic enhancement in the right hands. Only a licensed, experienced medical professional should perform this technique.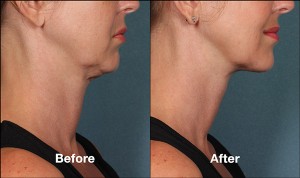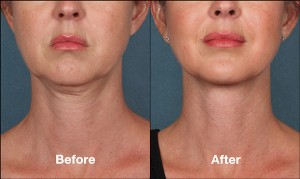 What to Expect
When you arrive for your initial consultation, Dr. Perry will evaluate your areas of concern, discuss your cosmetic goals, and develop a customized treatment plan based on these factors. KYBELLA™ will then be administered to targeted areas on your chin through a series of precise injections. Most patients report little discomfort, and we can provide numbing agents to help make your experience as comfortable as possible. One session may be sufficient to achieve your cosmetic goals; however, most individuals will require between two and four treatments to optimize results.
After the procedure, you should feel free to go home and relax. Most patients can return to normal activity in about a day or two. You may experience some tenderness, swelling, and mild bruising in the treated area, which is normal. These effects should subside over the course of a few days. KYBELLA™ works gradually, and in the months following treatment you should see a slimmer, more contoured profile develop.
KYBELLA™ is a brand new way to achieve your cosmetic goals, and our skilled medical team is happy to answer any questions you may have. Contact our office today for more information or to schedule a consultation with Dr. Perry.