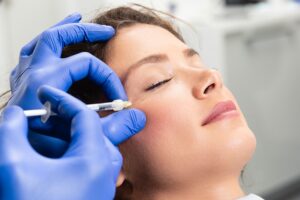 Some of the most popular treatments for effective cosmetic facial enhancement are injectable procedures like BOTOX® Cosmetic or those that involve dermal filler solutions such as JUVÉDERM® products. BOTOX® Cosmetic and dermal fillers share many similarities, including the ability to temporarily smooth away wrinkles and fine lines to enhance the appearance of youthfulness and vibrancy in the face. With this in mind, there are several differences between these two options that can make one more preferable over the other for patients who may benefit from non-surgical aesthetic treatments.
Let's take a look at the most significant benefits and distinctions between BOTOX® Cosmetic and dermal fillers:
BOTOX® Cosmetic
BOTOX® Cosmetic has maintained its position as one of the most frequently performed non-surgical aesthetic enhancement procedures for nearly 20 years. The BOTOX® Cosmetic solution can be injected into areas of the face such as the corners of the eyes (crow's feet), between the eyebrows (glabellar lines/furrows) and along the forehead that exhibit wrinkles and creases. Ultimately, BOTOX® Cosmetic can temporarily diminish signs of wrinkles and fine lines, producing a smoother and more refreshed look.
One of the biggest differences between BOTOX® Cosmetic and dermal fillers lies in the composition and ingredients of the two solutions. BOTOX® Cosmetic is known as a neuromodulator. Composed of a diluted form of botulinum toxin type A, BOTOX® Cosmetic works by temporarily preventing muscles in the treatment area from contracting and producing a wrinkled or creased appearance. This is very different from the way most dermal fillers work. Additionally, the effects of BOTOX® Cosmetic typically fade after about three to four months, although they can often be maintained for longer periods with occasional "touch-up" injections. By contrast, many of today's advanced dermal fillers can create results that last longer after the initial treatment. That said, BOTOX® Cosmetic can be advantageous over dermal fillers for certain concerns, and a patient's specific desires and goals may be better served with this treatment.
Dermal Fillers
While dermal fillers are like BOTOX® Cosmetic in that they can be utilized to smooth away wrinkles and fine lines in targeted areas of the face, many dermal fillers are also capable of adding volume and enhanced definition to particular facial features. The lips and cheeks are very common areas for which patients would like to enhance volume. Dermal fillers like JUVÉDERM® and options in its extensive line of products can also be ideal for diminishing signs of deep folds and prominent wrinkles in the face, such as "marionette lines" and lines between the nose and mouth.
JUVÉDERM® and many other dermal fillers are composed of an ingredient that is natural to the human body—hyaluronic acid—which aids in the replenishment of volume in the skin. As opposed to BOTOX® Cosmetic, JUVÉDERM® does not utilize a neurotoxin to enhance the appearance of the skin. It quite literally "fills in" lines and wrinkles and volumizes facial features to provide a more youthful look and/or enhanced contours. The results of JUVÉDERM® and its associated products often last a minimum of six months, and some options can last well over a year for many patients. However, for some concerns, BOTOX® Cosmetic may be a better alternative. Again, it all depends on each patient's individual needs and overall treatment goals.
The best way to determine whether BOTOX® Cosmetic or a dermal filler may be the right option for your needs is to schedule a consultation here at Chrysalis Cosmetics. We can evaluate your skin and talk with you about your expectations. If BOTOX® Cosmetic, JUVÉDERM®, or another treatment altogether is the best option, we can create a customized treatment plan designed to help you renew your appearance with exceptional, natural-looking results!