Prepare to enjoy a flat tummy, a slim waistline, and a youthful attitude! Tummy tuck surgery (abdominoplasty) helps both men and women troubled by a protruding abdomen that has not responded to diet and exercise. These individuals may also have areas of loose skin coupled with excess fat. With the tummy tuck procedure, our board-certified Sacramento plastic surgeon, Charles Perry, MD, is able to remove skin and fat from the middle and lower abdomen while tightening the muscles to slim the waistline, ultimately restoring abdominal contours and producing a more fit look.
We offer both the full and mini tummy tuck surgery at our practice. Mini tummy tuck is a less drastic procedure than the full abdominoplasty, often making it ideally suited for those with a protrusion primarily below the navel. Dr. Perry can meet with you to evaluate your concerns and create a customized treatment plan designed to achieve your personal goals.
Tummy Tuck Before-and-After Photos*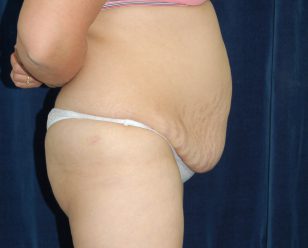 Before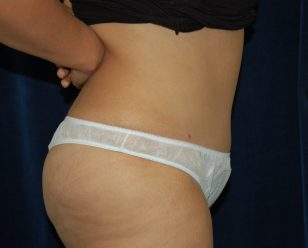 After
What Are the Benefits of Tummy Tuck Surgery?
For many individuals, no amount of stomach crunches or other rigorous exercise routines are able to effectively restore the appearance of the abdomen. This is likely due to underlying muscles that have become significantly loose or damaged, in addition to an accumulation of excess skin that will not respond to diet or fitness regimens. A tummy tuck can address these concerns, offering benefits such as:
Reduction of inelastic skin
Tightening of abdominal muscles
Tightening of remaining skin for firmer, recontoured results
A flatter, slimmer-looking abdomen
In many cases, even stretch marks primarily located below the navel can also be addressed with tummy tuck surgery. Plus, while this treatment can be a very effective body contouring option on its own, tummy tuck surgery can also be included in a Mommy Makeover for more comprehensive body rejuvenation.
Who Is a Good Candidate for Tummy Tuck Surgery?
Full tummy tuck surgery is excellent for men or women who are of a relatively normal weight for their body type and have a significantly protruding abdomen as a result of aging, pregnancy, weight loss, or other factors. Ideal candidates for mini tummy tuck are those with trouble areas located primarily in the region below the belly button. Like full tummy tuck surgery, a mini tummy tuck may be combined with liposuction when excess fat is also contributing to the concern.
Weight loss and pregnancy are common causes of abdominal protrusion and excess skin along the midsection. Pregnancy, in particular, stretches the skin and muscle of the abdomen in a way that can only be corrected surgically. These concerns often make individuals good candidates for tummy tuck surgery.
If you smoke, you should quit at least two weeks before full or mini tummy tuck surgery, and abstain from smoking for one to two weeks after surgery. Smoking not only delays healing, but also increases the chances of poor healing. This can result in conspicuous scars and the need for additional surgery.
This body contouring procedure is not recommended for:
Individuals who intend to lose a significant amount of weight
Women who may become pregnant in the future
Individuals with unrealistic expectations
Individuals with scarring from previous abdominal surgery
Dr. Perry can determine your candidacy for full tummy tuck or mini tummy tuck surgery during the initial consultation and answer any questions you may have.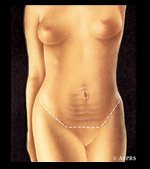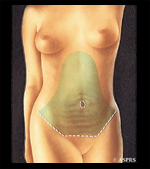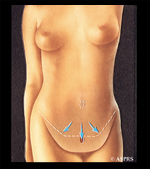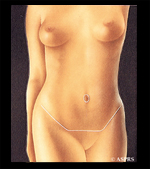 Tummy Tuck vs. Liposuction
Tummy tuck surgery and liposuction are two of the most popular and effective techniques available for body contouring, yet there are a number of distinctions between them. A tummy tuck is designed to address excess skin and muscle laxity in the abdomen. The procedure can repair loose and torn muscles, reduce inelastic skin, and tighten the remaining skin to create a flatter, firmer abdomen with an enhanced contour. Liposuction targets a collection of excess fat in the abdominal region. This treatment extracts the fat cells, but is not capable of addressing loose skin and will have no effect on muscle laxity.
In cases where the abdominal concerns are being primarily caused by excess fat, liposuction alone may be all that's required to adequately achieve individual goals. In others, a full or mini tummy tuck may be the recommended treatment option. While these treatments can yield impressive results on their own, combining the surgery with liposuction is sometimes recommended to remove stubborn fatty deposits from around the abdomen. During your initial consultation with Dr. Perry, he will determine exactly what is causing the concern and advise you on the treatment option that is most ideal for your needs.
Mini-Tummy Tuck vs. Full Tummy Tuck
There are essentially two options when it comes to abdominoplasty: a full tummy tuck and a mini-tummy tuck. With this in mind, one option will be recommended over the other based on each patient's needs, goals, and the specific concerns they are experiencing.
A full tummy tuck is generally the preferred technique in cases where there are severe degrees of excess, inelastic skin and lax musculature affecting the upper abdominal area above the navel and the region below the navel. Full tummy tuck surgery requires a rather extensive incision from one hip to the other, and the navel will be relocated. In a mini tummy tuck, the incision is shorter, and the navel is not repositioned. This procedure addresses protrusion below the navel. Just like in a full tummy tuck, excess skin and fat are removed and muscles are tightened, but on a smaller scale than a full tummy tuck.
To find out which type of tummy tuck is best for you, it is best to be examined by Dr. Perry so that he can determine the severity of your concerns and whether a mini tummy tuck or a full tummy tuck is the more suitable option for your goals.
What Should I Consider Before Undergoing Tummy Tuck Surgery?
Financial responsibilities
Fees for tummy tuck are not covered by health insurance. Surgical fees include the cost of anesthesia, lab tests, medications, cost of surgical supplies, surgery center charges, and more. If complications develop, additional charges will be incurred; however, if the complication poses a health risk, your health plan may cover hospitalization, anesthesia, and/or secondary surgery.
Tummy Tuck Scarring
Tummy tuck surgery leaves a scar. In the case of a full tummy tuck, the scar will extend from hip bone to hip bone. A mini tummy tuck leaves a less extensive scar. While this scar is designed to be hidden by swimsuits and similar garments, it will not fully disappear.
How Is the Tummy Tuck Procedure Performed?
Tummy tuck surgery is performed under general anesthesia, or a local anesthesia plus a sedative. Tummy tuck, especially mini tummy tuck, is usually performed as an outpatient procedure, so you should be able to go home the day of surgery.
A full tummy tuck is performed through a long incision that extends from hip to hip. Dr. Perry will also make an incision to free the navel from its underlying tissue, preparing it to be moved upward. Our surgeon will draw your abdominal muscles together and stitch them carefully into their new position, creating a flatter abdomen and slimmer waistline. Next, Dr. Perry will excise extra skin and reposition the navel. Finally, the incisions are closed with sutures, and drains are placed to aid in the healing process.
What Can I Expect During Tummy Tuck Recovery?
The recovery process from a full tummy tuck surgery can be somewhat variable for each patient; however, most patients can expect swelling and bruising in the abdominal area to last for several days after the procedure. Discomfort during the healing process can be alleviated with medication. While Dr. Perry will provide you with specific recommendations based on your individual needs, patients often require a minimum of two weeks of recovery at home following this procedure. A compression garment will be provided to help facilitate the healing process. Strenuous activities and exercise should not be undertaken for at least six weeks after tummy tuck surgery.
You can find more detailed information on what to expect in the days following tummy tuck surgery by viewing the post-operative instructions in the section below. If you have any questions or would like additional information, please don't hesitate to contact us.
Complete Pre- and Post-Operative Instructions for Tummy Tuck Patients
To make your tummy tuck experience a positive one, we have prepared this comprehensive list of instructions. We recommend that you read these guidelines over as soon as your surgery day is scheduled. On your surgery day, print out the instructions and bring them with you.
Tummy Tuck Instructions (printer-friendly)
What Are the Risks of Tummy Tuck Surgery?
Tummy tuck and mini tummy tuck surgery, just like any surgical procedure, carry some risks. Patients should know that one or more complications are possible.
Infection
While infection is unusual after tummy tuck surgery, the rare development of an infection would require treatment using antibiotics or drainage, possibly requiring a prolonged hospital stay.
Poor Healing and Conspicuous Scarring
If you follow aftercare instructions and don't smoke, you can expect excellent healing and scar resolution after tummy tuck surgery. However, poor healing, especially if you smoke, is always a risk, possibly leading to the formation of conspicuous scars that may require a second surgery to treat.
Unsatisfactory Result
The exact results of tummy tuck surgery can never be predicted. For this reason, patients should maintain realistic expectations and not anticipate perfection. Even with realistic expectations, tummy tuck surgery may yield an unsatisfactory result. Additional surgery may be required to improve upon sub-par results and can be completed six months to a year after the original surgery, when healing is complete and the final results have emerged.
Reactions to Anesthesia or Surgical Materials
All types of anesthesia involve risk and the possibility of complications, injury, and even death. In rare cases, patients have experienced allergic reactions to suture material, surgical tape, and other products used during tummy tuck surgery. Reactions such as these are impossible to predict and may require additional treatment.
How Much Does a Tummy Tuck Cost?
The total cost of a tummy tuck (abdominoplasty) procedure typically falls between $9,200 and $11,300 here at Chrysalis Cosmetics, depending on whether it is a mini tummy tuck, a standard tummy tuck, or an extended tummy tuck. This estimated price range includes all costs associated with the procedure. The price of abdominoplasty can vary from one patient to another based on factors that are unique to each individual's customized treatment plan. The extent and complexity of the treatment, the technique utilized, whether other procedures (such as liposuction) are part of the tummy tuck procedure, fees for the surgeon, anesthesia, and operating facility, and other components will be taken into account for the final price. You will be provided with a cost estimate that includes all expenses associated with the tummy tuck procedure once your treatment plan is developed during the initial consultation. We will be happy to talk with you about the comprehensive variety of payment methods we accept at Chrysalis Cosmetics, which include plastic surgery financing arrangements available from reputable companies such as CareCredit®, United Medical Credit, ALPHAEON® CREDIT, or LendingUSA™. Through these reputable lending agencies, qualified applicants can choose from a vast selection of payment plans to help make paying for tummy tuck surgery more convenient for their budget.
Whatever your age, don't let a protruding abdomen hold you back from enjoying life to the fullest! To learn more about this procedure, or to schedule a consultation, contact our cosmetic surgery practice today.
*Individual Results May Vary