CoolSculpting® is an innovative and non-invasive option for fat reduction in localized areas of the body. This state-of-the-art procedure utilizes freezing temperatures to break down fatty tissue, which can then be cleared away by your body's natural metabolic processes. While surgical liposuction can typically be more helpful for larger fat deposits, CoolSculpting® from our experienced plastic surgeon in Sacramento may be an ideal alternative for smaller areas, allowing qualified candidates for this treatment to reduce localized fat deposits without undergoing surgery. CoolSculpting® can provide gradual, natural-looking results, and this procedure can also work in conjunction with your regular fitness and nutrition program for more comprehensive body contouring. In addition to standard CoolSculpting®, Dr. Charles Perry and our team at Chrysalis Cosmetics offer DualSculpting to help you achieve optimal results in half the time if you wish to address more than one area.
For more information about CoolSculpting® and DualSculpting as a liposuction alternative, or if you would like to schedule a consultation with Dr. Perry, please contact us today.
What Are the Benefits of CoolSculpting®?
CoolSculpting® offers numerous benefits for patients trying to get rid of stubborn excess fat in specific body regions. Advantages of this treatment include:
Fat reduction in areas such as the abdomen, love handles, arms, thighs, hips, mid-back, knees, and under the chin
No anesthesia, surgical incisions, or needles are required for this treatment
Many individuals do not require downtime following CoolSculpting® treatment
Patients can occupy their time reading a magazine or just relaxing as the treatment progresses
Am I a Candidate for CoolSculpting®?
All types of fatty tissue are not created equal. If you're struggling to reduce stubborn pockets of fat from "trouble spots" like the stomach, hips, thighs, and other areas, you may be fighting against genetics rather than an imperfect diet or exercise regimen. This may also indicate that you are a good candidate for CoolSculpting®. In addition to experiencing mild to moderate levels of excess fat in localized areas, ideal CoolSculpting® candidates typically have reasonably good skin elasticity in the regions being targeted, and should also have realistic expectations for what this treatment can achieve. Individuals with cold-related diseases or conditions may not be good candidates for CoolSculpting®. During the initial consultation, we can talk with you about your needs and goals and determine whether CoolSculpting® is the right option.
CoolSculpting® vs. Liposuction
CoolSculpting® and liposuction utilize two very different treatment methods to essentially achieve the same goal. The main distinction between them is that one is a surgical procedure and the other is not. Liposuction eliminates excess fat via direct suction through long, thin cannulas surgically inserted into the area targeted for treatment. CoolSculpting® reduces fatty deposits using an innovative technology called Cryolipolysis™, which delivers cold energy to the exterior of the targeted area. The technology is designed to generate a precise temperature that affects fatty tissue while leaving surrounding tissue unharmed. As a result, the targeted fat cells should break down and exit the body through its natural filtration system, leading to gradual fat loss of up to 20 percent over the course of a few months.
Other differences between these two procedures include each one's ability to address the severity of the concern, as well as the length of time the results will take to appear. Liposuction can be more ideal for very large areas of isolated fat; CoolSculpting® is generally able to address concerns that are mild-to-moderate in nature. The effects of liposuction will be present shortly after the procedure, whereas CoolSculpting® is designed for more gradual noticeability. Also, liposuction will require a period of downtime for the targeted areas to heal, and CoolSculpting® does not usually necessitate a recovery period due to its less invasive treatment technique.
Both of these procedures offer significant benefits, and whether one is more ideal than the other can be determined during the initial consultation. In some cases, CoolSculpting® in addition to traditional liposuction can offer the best and most complete results possible.
CoolTone®
In addition to its ability to reduce excess fat, CoolSculpting® offers a separate, FDA-cleared technique called CoolTone® for patients looking to strengthen muscle tone in the abdomen, thighs, or buttocks. While CoolTone® can be performed as a standalone procedure, it is often utilized in tandem with a CoolSculpting® treatment plan to further enhance the results of fat reduction and provide improved tone and definition.
CoolTone® utilizes a non-surgical process called magnetic muscle stimulation (MMS) to stimulate deep layers of muscle in the treatment area. When these muscle fibers contract, they can become stronger and more conditioned, leading to a more defined appearance. When combined with CoolSculpting® treatment in the thighs, buttocks, or abdomen, CoolTone® enables patients to achieve more comprehensive body sculpting—CoolSculpting® reduces the excess fat cells while CoolTone® works on improving tone in the underlying muscles. Ultimately, this can create a firmer, more fit look.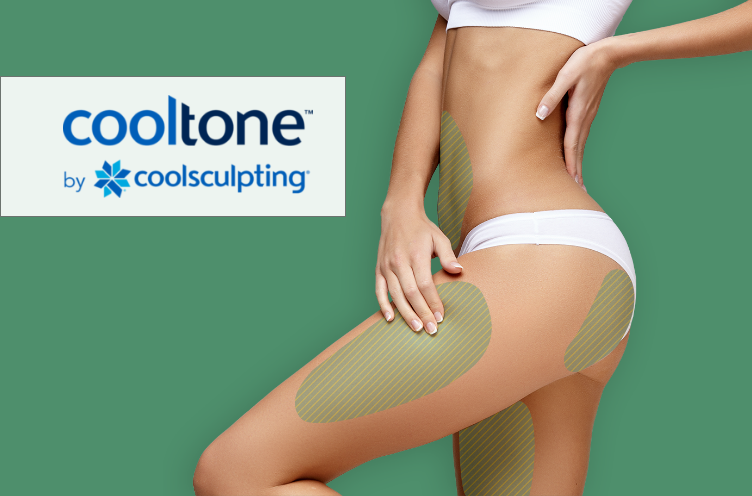 CoolTone® can be performed here at our practice and usually only takes about 30 minutes per treatment area. It does not require anesthesia or needles. The CoolTone® device will be gently applied to the targeted area, where it will deliver magnetic energy to the muscles, helping them contract and strengthen. While patients typically experience a sensation of warmth in the area during treatment, this is generally well-tolerated and should fade after the first few minutes. Some patients may feel some mild muscle cramping following the CoolTone® procedure; however, this is a rare side effect.
In most cases, a series of CoolTone® treatments will be recommended in order for patients to achieve the best possible results. During your initial consultation, we will talk with you about your concerns and determine whether you are an ideal candidate for CoolTone® treatment. If so, a customized CoolTone® treatment plan will be developed. CoolTone® results are not permanent; however, additional procedures can be scheduled as necessary to help you maintain the outcome.
How Does CoolSculpting® Work?
When you arrive for your initial consultation, Dr. Perry will ensure that you are close to or at your ideal weight before developing a customized treatment plan that addresses your areas of concern, which may include the stomach, hips/flanks, thighs, or other regions. You will then sit or lie down in our chair, and we will place the CoolSculpting® device onto your "trouble spot," at which point vacuum suction will draw the bulge between two cooling plates and hold the tissue securely during the procedure. If you are targeting more than one area, such as the hips or the thighs, we will use two devices to reduce your treatment time. This method is called DualSculpting. The experience typically takes approximately one hour to complete, after which you're welcome to return to normal activity.
When the CoolSculpting® device begins to work, you will likely feel some pulling, mild pinching, or light tugging, although your discomfort should be minimal. You will then experience an intense cold sensation followed by numbness for the next 5-10 minutes or so. Some patients have reported mild aching, tingling, and cramping; these effects should subside with time. While a single CoolSculpting® treatment may be sufficient to achieve your cosmetic goals, additional sessions can provide more extensive benefits.

What Can I Expect During CoolSculpting® Recovery?
Following the procedure, bruising, tingling, numbness, redness, and mild swelling in the area will likely be present. These side effects of CoolSculpting® are normal and should fade within a few days or weeks; however, individual results will vary. Dr. Perry will explain in detail what side effects may occur and approximately how long they will last, though there are no known lasting complications with CoolSculpting®.
Most patients do not need recovery time following CoolSculpting® procedures and are able to return to normal daily routines immediately.
How Long Does CoolSculpting® Last?
You should begin to see some benefits of the CoolSculpting® treatment after two to four weeks, with the full outcome visible in about two to four months. By maintaining a healthy diet, keeping to an effective workout schedule, and minimizing fluctuations in weight as much as possible, the results of CoolSculpting® should last many years into the future.
How Much Does CoolSculpting® Cost?
The price of CoolSculpting® for one treatment area typically falls in the $750 range. For six treatment areas, the cost is in the $3,600 range. The cost of this procedure is often significantly variable among patients. The reason for this is due to the fact that CoolSculpting® treatments are uniquely customized for each individual based on the areas being treated and the size of those areas, the number of treatment sessions necessary to achieve optimal results, and other factors. Fortunately, the cost of CoolSculpting® is often favorable when compared with surgical procedures since there are no fees for anesthesia or use of an operating facility. Once your CoolSculpting® treatment plan is developed at the initial consultation, we can calculate an estimate of the total cost and talk with you about payment options available at our practice. Chrysalis Cosmetics accepts a wide variety of payment methods, including financing arrangements through reputable companies. These agencies offer qualified applicants a number of payment plans that can make the cost of treatment more affordable and convenient.
Additional Frequently Asked Questions About CoolSculpting®
Is CoolSculpting® safe?
When performed by an experienced provider, CoolSculpting® is considered very safe; however, like the majority of cosmetic treatments, negative side effects are possible. Tingling, numbness, bruising, stinging, aching, redness, and itching can sometimes occur, but these typically subside within a few days.
In extremely rare cases, patients can develop a complication called paradoxical adipose hyperplasia (PAH). While very few people have been diagnosed with this condition, it has been known to manifest as a subcutaneous buildup of bulging fatty tissue in the treatment area. The buildup can feel hard to the touch and is sometimes painful. If you are concerned about PAH, please note that the condition is known to have occurred only in a very low percentage of CoolSculpting® patients and much research still needs to be conducted on the issue. We will be happy to address any questions or concerns about PAH or other aspects of CoolSculpting® at any time.
Does CoolSculpting® hurt?
While patients do not generally report that the CoolSculpting® procedure causes excessive discomfort, everyone reacts differently to pain, and certain patients may find the procedure more uncomfortable than others. If you experience stinging or aching following the treatment, please remember that these are normal side effects which should fade promptly. If you are still concerned, please don't hesitate to contact us.
Is CoolSculpting® permanent?
The fat cells removed in the CoolSculpting® procedure cannot regenerate, but the cells which remain in the treatment area can change in size. For instance, in the event of significant weight gain, these cells can expand and potentially distort the results of your CoolSculpting® treatment. To reap the full benefits of CoolSculpting® for as long as possible, we advise you to maintain a healthy diet and exercise routine to limit excessive weight fluctuations.
Can CoolSculpting® treat gynecomastia?
Under some circumstances, CoolSculpting® can reduce the effects of mild gynecomastia; however, when selecting a treatment, it is important to distinguish between the types of gynecomastia. The condition can manifest as abnormal glandular tissue growth or excess breast fat in men, with the former often the result of genetics or hormonal imbalance and the latter typically an issue for men who may be overweight or who have lost a significant amount of weight. CoolSculpting®, a fat reduction procedure, will not be able to remove glandular tissue or severe amounts of breast fat; patients with these concerns are usually better suited for male breast reduction. That said, CoolSculpting® can be effective for less pronounced breast fat in certain cases.
Is CoolSculpting® covered by insurance?
Unfortunately, CoolSculpting® is considered an elective procedure and is not covered by insurance, but the treatment is generally less expensive than other options. In addition, at Chrysalis Cosmetics, we accept a number of convenient payment methods for your convenience.
If you have additional questions about CoolSculpting®, DualSculpting, and how this procedure can help you to reduce fatty tissue, or if you would like to schedule a consultation with Dr. Perry, please contact our office today.