Liposuction is celebrated for its ability to sculpt the body and make patients look and feel glamorous, youthful, and rejuvenated. At our practice, Dr. Charles Perry performs liposuction to remove stubborn, unwanted fat deposits from targeted areas of the body. The technique can be used to slim the face, neck, upper arms, trunk, abdomen, buttocks, hips, thighs, knees, calves, and ankles. Liposuction is not a replacement for weight loss and is best used to address localized fat deposits that have not responded to diet or exercise.
Liposuction is effective on its own as a body contouring procedure, though it can also be combined with other techniques — such as facelift, tummy tuck, or thigh lift — to refine contours
Who Is an Ideal Candidate for Liposuction?
If you are of normal weight, eat a healthy diet, exercise, and are willing to continue this healthy lifestyle after undergoing liposuction, you are an excellent candidate for this procedure. When healthy lifestyle practices are maintained over a lifetime, liposuction patients will preserve their improved body contour and may even see the contour improve.
Liposuction is not recommended for:
Obese individuals
Individuals suffering from certain medical conditions
Individuals with unrealistic expectations
Individuals seeking to address cellulite or irregularities caused by structures other than fat
Individuals with poor skin quality
Poor skin quality may be due to weight loss, stretch marks, or aging and will result in subpar results. For these individuals, the skin will not conform to your new contours and additional surgical techniques may be required to tighten excess skin.
Our Patient Photos*
Before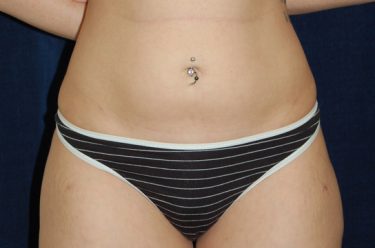 After
What Should I Consider Before Having Liposuction?
Financial responsibilities
Fees for liposuction are not covered by health insurance. They will include the cost of anesthesia, lab tests, medications, cost of surgical supplies, surgery center charges, and more. If complications develop, you will incur additional charges. However, if the complication poses a health risk, your health plan will cover hospitalization, anesthesia, and/or secondary surgery.
Liposuction cannot replace weight loss, diet, and exercise
Our plastic surgeon considers good candidates for liposuction to be individuals who are of a normal weight, healthy, and active both before and after their procedure.
What Is the Liposuction Procedure Like?
At our practice, several liposuction techniques are available. However, Dr. Perry prefers the tumescent liposuction technique. In this method, the targeted areas of fatty tissue are injected with a tumescing fluid, which contains epinephrine (adrenaline) and diluted local anesthetic. This fluid causes the fat cells to "tumesce," making them swell and become firm, thus simplifying the removal of stubborn deposits. When compared to other liposuction techniques, tumescent liposuction is associated with less discomfort during the procedure, as well as an easier recovery period characterized by less bruising and pain.
What Will Liposuction Recovery Be Like?
Liposuction is performed as an outpatient surgery, which means you should be able to return home the same day. The treated area will be wrapped in bandages, and drains may be used to enhance your healing process. Medication will be prescribed to minimize your pain, and you should expect some minor discomfort, as well as bruising and swelling, for the first several days. Bruising and swelling will continue after this point, though much decreased, and should subside with time. Most patients take about a week off from work to recover, though some may need additional time depending on their treatment plan. While many activities will be fine to engage in after about two weeks, rigorous exercise should be avoided for at least a month. Dr. Perry will provide additional details at your initial consultation.
What Will My Liposuction Scars Look Like?
The incisions made are small, therefore the scars are also typically small and unnoticeable. The location and number of the incisions will depend on which areas you have treated and your individual treatment plan. Dr. Perry will go over the details at your initial consultation. If you are prone to hypertrophic or keloid scars, you should mention this during the meeting. If you would like to enhance the healing process regarding the scar's appearance, we offer a range of laser skin resurfacing options that can assist in minimizing surgical marks.
What Are the Risks and Side Effects of Liposuction?
Just like any surgical procedure, liposuction carries certain risks. While these risks are rare, those considering liposuction should educate themselves before making their decision to undergo this procedure. Below is an introduction to the risks of liposuction; for more information, schedule your consultation to speak with Dr. Perry.
Bleeding and seroma (fluid accumulation)
It's unusual, but possible, to have a bleeding episode during or after liposuction. If significant postoperative bleeding occurs, you may require emergency treatment to drain the blood. In addition, it is possible for fluid accumulation to occur in areas sculpted with liposuction. The draining of this fluid, as well as additional surgery, may be necessary.
Infection
Like tummy tuck or any other surgery that we offer at our practice, infection after liposuction surgery is unusual. However, the rare development of an infection would require treatment using antibiotics or additional surgery.
Change in skin sensation
It's possible to experience a temporary loss of skin sensation after liposuction, but sensation will return over time. In rare cases, diminished or complete loss of sensation does not completely resolve.
Skin discoloration/swelling
Commonly, skin discoloration and swelling are experienced after liposuction. It's rare for swelling and discoloration to persist for a long time, and permanent skin discoloration is also unusual.
Irregular skin contour
Irregularities such as dimpling, wrinkling, and skin depressions may follow liposuction, possibly requiring additional treatments, including surgery, to correct.
Asymmetry
Normal pre-surgery asymmetry in the body's features is affected by skin, muscle tone, and bone prominence. Just as the body is not symmetrical before liposuction, it will not be symmetrical afterward.
Unsatisfactory result
Despite realistic expectations about the results of liposuction, some patients are disappointed with the outcome. In rare cases, a patient's results are improved through additional surgery.
Surgical shock
Especially when multiple or extensive areas are treated with liposuction, the procedure can cause severe trauma, including infections or excessive fluid loss that can cause severe illness or even death. For this reason, patients planning large volume liposuction (greater than 5000 cc's) may be advised to be monitored post-operatively and remain overnight in the hospital.
Long-term alterations in body contour
These can occur over time because of many circumstances unrelated to liposuction, such as aging, pregnancy, weight loss, weight gain, or other factors.
Skin loss or chronic pain
Skin loss and chronic pain after liposuction are extremely rare conditions but can occur.
Pulmonary complications
In very rare cases, fat embolism syndrome — when the lungs trap fat droplets — can occur and is sometimes deadly. This complication necessitates hospitalization and additional treatment.
Need for additional surgery
Complications from liposuction are rare but cannot be predicted. In some cases, complications will create a need for additional surgery or other treatments.
How Much Does Liposuction Cost?
The price of liposuction will depend on the complexity of your treatment plan, the number of areas you wish to address, the amount of tissue you have removed, and other factors unique to you. According to the American Society for Aesthetic Plastic Surgery, the average cost for liposuction in 2017 was $3,279. This number only reflects the surgeon's fee, and other expenses, including anesthesiology, medical facilities, and other fees, are likely to be included. We want you to have the most accurate and up to date information to make the right decision for you, so we will provide the total anticipated cost of your procedure at your consultation. If you would like to consider plastic surgery financing, we work with a number of highly reputable lending agencies that offer appealing rates to qualified applicants. We also accept a number of traditional payment options.
Are There Any Liposuction Alternatives?
Nothing can remove fatty tissue in targeted areas in the exact same way or to the degree liposuction can; however, there are a number of innovative non-surgical treatments available that can help contour the body and reduce pockets of fat with good results. We offer CoolSculpting® for body contouring and KYBELLA® for chin refinement, both of which have minimal downtime and typically desirable outcomes. We are happy to discuss these options and any other alternatives with you at your initial appointment. We want you to have access to the ideal treatment for your needs, goals, and preferences.
Complete Pre- and Post-Operative Liposuction Instructions
To make your liposuction experience a positive one, we have prepared this comprehensive list of guidelines. We recommend that you read them over as soon as your surgery day is scheduled. On your surgery day, print out the instructions and bring them with you.
Liposuction Instructions (printer-friendly)
If diet and exercise have left you disappointed, consider liposuction as a way to attain the beautiful body you deserve! Our practice offers state-of-the-art liposuction techniques, as well as a surgeon skilled in safely giving you the body contour you desire. Contact our practice today to learn more about liposuction, or to schedule a consultation.
*Individual Results May Vary