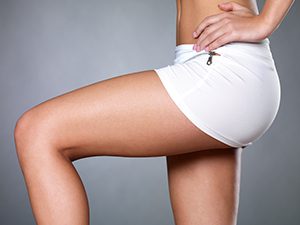 Following significant weight loss, the skin on the upper thighs can become lax, obscuring the thighs' true shape. Similar problems with excess skin can emerge as aging progresses and the skin naturally loses its elasticity. A thigh lift from our board-certified plastic surgeon is a procedure to remove loose skin from the thighs, restoring a proper contour to the area and allowing the patient to enjoy better-fitting clothes and a boost in confidence. Several techniques for the thigh lift exist, but incisions are typically hidden in the body's natural creases for an optimal result.
Who Is a Good Candidate for This Procedure?
If your thighs are showing the signs of weight loss or aging, you have the power to do something about it. Thigh lift surgery is most commonly used by individuals who have lost a substantial amount of weight, either through traditional means like diet and exercise or from bariatric surgery. When excess weight is lost, the skin may not always shrink back down, leaving loose, sagging skin. If you're dissatisfied with the appearance of your thighs due to this concern, thigh lift surgery may be right for you. Ideal candidates for this procedure will be in good general health and be nonsmokers or able to stop smoking for a period of time before and after the operation. Additionally, you should have reasonable expectations for results, and Dr. Charles Perry will go over the details of your plan so you'll know what to expect.
**Disclaimer: If you are a smoker, you MUST DISCONTINUE smoking a minimum of 4 weeks BEFORE & AFTER SURGERY. A nicotine test will be administered.**
Our Patient Photos*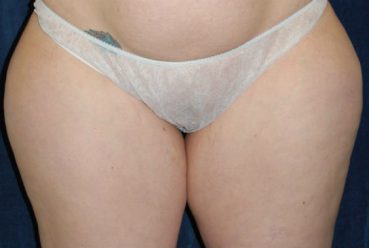 Before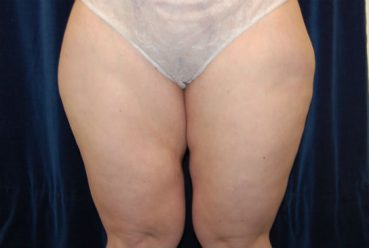 After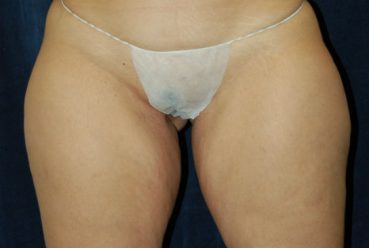 Before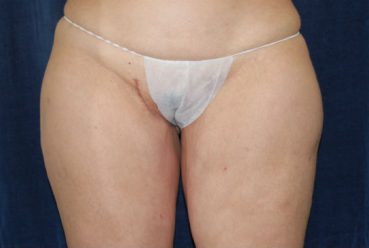 After
What Is the Procedure Like?
Though a thigh lift is often used as a component of body lift surgery (belt lipectomy), the procedure can also be performed on its own. In some cases, thigh lift surgery is combined with liposuction to further restore a youthful contour to the area. Depending on your unique treatment plan, this procedure may or may not be an outpatient operation. The length of the surgery will also vary, which will be determined based on the number of techniques used.
If the majority of the excess skin is located on the inner thighs, a medial thigh lift is the most likely approach. In this technique, an incision is made in the groin and the excess skin will be lifted up and trimmed to restore the contour of the leg. If excess skin is located on the outer as well as inner thighs, a lateral thigh lift may be recommended. The incision will also begin in the groin and travel around the upper thigh around the hip, potentially continuing around and under the buttocks. While the scar is more visible with this approach, Dr. Perry will make every effort to ensure the mark is as well-concealed as possible.
How Long Will Recovery Take?
To make it easier to have a positive surgical experience and smooth recovery, Dr. Perry has compiled a comprehensive list of pre- and post-surgical instructions for thigh lift surgery. Please review the instructions before surgery and print them out so that you can bring them with you on your surgery day. Most patients take 10 days to two weeks off from work to recover, although your experience may vary from this estimate, especially if your treatment plan utilizes multiple modalities. Swelling, bruising, and tenderness in the treated area is normal, and we will provide prescription medication to control your pain. We advise you to avoid strenuous exercise for at least four to six weeks to optimize your outcome.
When Will I See the Final Results?
Swelling can continue for up to a year, although the vast majority of the inflammation should subside within a couple of months. You are considered fully healed after about a year. Many benefits will be noticeable soon after the procedure, and most of the effects are visible after a few weeks to a few months.
Thigh Lift Instructions (printer-friendly)
If you would like additional information about thigh lift surgery, or if you would like to schedule a consultation with Dr. Perry, please contact our practice today.
*Individual Results May Vary