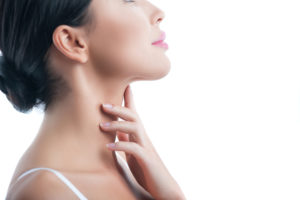 It may surprise you to know that a "double-chin" created by a collection of excess fat or inelastic skin in the upper neck is not only very common, but can even affect individuals who are in excellent physical shape. The appearance of a double-chin can be particularly frustrating, but the good news is that there are a variety of treatments available that can address this concern and produce a more contoured profile. 
The best way to get rid of a double-chin will be determined by exactly what is causing the problem. Here are a few of the most common procedures performed by Dr. Charles Perry and our team at Chrysalis Cosmetics that can effectively reduce signs of a double-chin: 
KYBELLA® 
If you are experiencing a double-chin caused by the accumulation of a mild to moderate amount of excess fat in the upper region of the neck, KYBELLA® may be an ideal solution. KYBELLA® is an innovative treatment for this concern due to the fact that it involves no surgery of any kind. Instead, KYBELLA® is an injectable agent that stimulates a fat breakdown process, ultimately destroying the excess fat cells to improve neck contours. 
CoolSculpting® 
In some situations, the double-chin can be cooled down and shrunk with the CoolMini™ probe from CoolSculpting®. When you are assessed by Chrysalis Cosmetics, your neck and chin area will be measured for the CoolMini™ probe, which can effectively begin reducing the double-chin and enhancing the jawline in as little as an hour, with recovery time similar to KYBELLA®. 
Liposuction 
For patients who have more severe degrees of excess fat collection under the chin, neck liposuction may be the best option. This treatment can eliminate the excess fat by utilizing long, thin cannulas to suction the fat cells out of the area. Unlike KYBELLA®, neck liposuction is a surgical procedure and will require a longer period of downtime; however, this treatment can typically address larger amounts of fat more effectively. 
Neck Lift 
A surgical neck lift may be recommended if the double-chin is being caused primarily by loose, excess skin rather than excess fat. Loss of collagen and elasticity in the skin is a common effect of the aging process and can often occur in the upper neck area. A neck lift removes the excess skin and tightens the remaining skin (as well as the underlying muscles) to create firmer, more contoured results. Options such as KYBELLA® and liposuction will have no effect on excess skin; therefore, a neck lift may be indicated for these types of concerns. 
Dr. Perry can evaluate the condition of your neck and determine which treatment option is best for your needs and goals. If you would like additional information, or if you are ready to schedule your consultation, please contact us today.