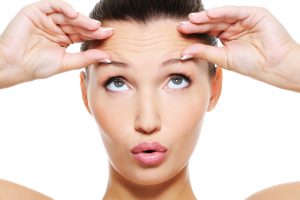 Many individuals express stress, elation, pain, surprise, disappointment, and other emotions by lifting or contracting their eyebrow and forehead muscles. All this movement can lead to wrinkles forming in this area, often exacerbated by the natural process of aging. Fortunately, our board certified plastic surgeon, Dr. Charles Perry, offers a range of techniques to address these concerns. Both brow lift surgery (also known as a forehead lift) and non-surgical treatments can be used to rejuvenate the appearance of the forehead. But which one can give you the best results? That requires a closer look.
Surgical Brow Lift
This procedure is designed to lift the tissues of the forehead to a higher, more youthful position, remove excess skin, and reduce the appearance of deep creases. This approach may be ideal for you if your primary concern is a descending brow and excess skin, which cannot be addressed with cosmetic injectables or laser skin resurfacing. This method requires more significant recovery time, but the results typically last a decade or longer, although your experience may vary.
Non-Surgical Brow Lift
The non-surgical approach to forehead rejuvenation typically utilizes one or more cosmetic injectables and may or may not include laser skin resurfacing. BOTOX® Cosmetic can pause overactive muscles that are causing wrinkles to develop, while dermal fillers can smooth away fine lines and add volume. Laser treatments can improve texture and tone as well. It's important to note, these techniques cannot address excess skin. In some cases, they can even make skin laxity worse. That's why we encourage patients to discuss their desired goals with Dr. Perry, so he can help guide you toward the optimal approach.
We want to give you the information you need to make the best decision for your goals—not pressure you to go a certain way. Your experience is our top priority, and we're happy to answer any questions you may have.