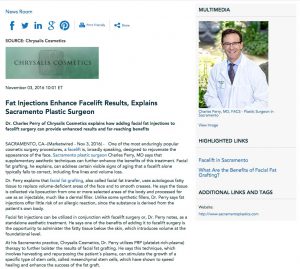 Dr. Charles Perry of Chrysalis Cosmetics explains how adding facial fat injections to facelift surgery can provide enhanced results and far-reaching benefits.
Sacramento, CA — One of the most enduringly popular cosmetic surgery procedures, a facelift is, broadly speaking, designed to rejuvenate the appearance of the face. Sacramento plastic surgeon Charles Perry, MD says that supplementary aesthetic techniques can further enhance the benefits of this treatment. Facial fat grafting, he explains, can address certain visible signs of aging that a facelift alone typically fails to correct, including fine lines and volume loss.
Dr. Perry explains that facial fat grafting, also called facial fat transfer, uses autologous fatty tissue to replace volume-deficient areas of the face and to smooth creases. He says the tissue is collected via liposuction from one or more selected areas of the body and processed for use as an injectable, much like a dermal filler. Unlike some synthetic fillers, Dr. Perry says fat injections offer little risk of an allergic reaction, since the substance is derived from the patient's own body.
Facial fat injections can be utilized in conjunction with facelift surgery or, Dr. Perry notes, as a standalone aesthetic treatment. He says one of the benefits of adding it to facelift surgery is the opportunity to administer the fatty tissue below the skin, which introduces volume at the foundational level.
At his Sacramento practice, Chrysalis Cosmetics, Dr. Perry utilizes PRP (platelet-rich-plasma) therapy to further bolster the results of facial fat grafting. He says this technique, which involves harvesting and repurposing the patient's plasma, can stimulate the growth of a specific type of stem cells, called mesenchymal stem cells, which have shown to speed healing and enhance the success of the fat graft.
Dr. Perry says that other benefits of facial fat transfer include the opportunity for body contouring, as the procedure necessitates the use of liposuction to harvest the fatty tissue. Additionally, he says fat injections offer long-term results, typically outlasting even the longest-lasting dermal fillers.
This innovative technique is not appropriate for everyone, and Dr. Perry recommends that patients considering facelift surgery and facial fat injections should discuss their cosmetic goals with an experienced, board certified plastic surgeon.
About Charles Perry, MD, FACS
Founder of Chrysalis Cosmetics and certified by the American Board of Plastic Surgery, Dr. Charles Perry is an extensively trained plastic surgeon practicing in the Sacramento, Modesto, and Stockton area. A graduate of the University of Puget Sound and the University of Washington School of Medicine, he is also a Diplomate of the American Board of Plastic Surgery and a Fellow of the American College of Surgeons. An active member of several esteemed medical organizations, Dr. Perry also dedicates his time and skill to several charitable endeavors, particularly the Plastic Surgery Educational Foundation. He is available for interview upon request.
For more information about Dr. Perry and his practice, please visit sacramentoplastics.com and facebook.com/ChrysalisCosmetics.
Contact:
Chrysalis Cosmetics
785 University Ave.
Sacramento, CA 95816
(916) 273-7435
Rosemont Media
(858) 200-0044
www.rosemontmedia.com