Facelift
Facelift surgery, whether performed using the full or mini facelift technique, is often combined with eyelid surgery, forehead lift, or injectable products such as BOTOX® Cosmetic. Occasionally, a facelift can even be combined with a lip lift. These treatments address other common signs of aging that facelift alone cannot combat, allowing for comprehensive facial rejuvenation.
A mini facelift is ideal for those just beginning to show the signs of aging. It can refine the results of a full facelift, or be performed on its own. This technique utilizes tiny incisions and is sometimes referred to as "the weekend" facelift because recovery is so quick. The mini facelift is especially useful for those with moderate laxity in the skin of the lower face, and those wishing for increased jawline definition.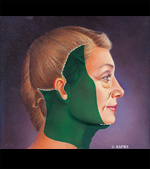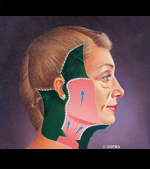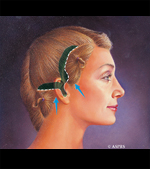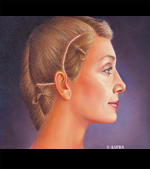 Our Patient Photos*
Am I Good a Candidate for a Facelift or Mini Facelift?
The ideal candidate for facelift surgery is healthy, mentally stable, and has skin laxity in the neck and mid to lower face. If your skin laxity is mild to moderate, you may be an ideal candidate for a mini facelift. For either procedure, it is best to be at a stable weight, have good skin elasticity, and a strong bone structure.
Facelift or mini facelift is not recommended for:
Individuals with medical conditions – Patients that have diabetes, uncontrolled high blood pressure, poor circulation, blood clotting problems, or other health concerns may not be good candidates for surgery. Patients will thoroughly discuss their medical history with our plastic surgeon, Dr. Charles Perry, before undergoing surgery.
Individuals with unrealistic expectations
Things to Consider Before Undergoing Facelift or Mini Facelift Surgery
Financial responsibilities
Fees for facelift surgery are not covered by health insurance and include surgical and facility fees, anesthesia fees, and more. If complications arise, you may incur additional fees.
Longevity of facelift results
Facelift surgery results do not last forever. The results of a traditional facelift generally last seven to 10 years and the results of mini facelift, five to seven years.
Pre-operative facial condition
Skin elasticity, skin type, bone structure, ethnic background, and other factors all affect the results of facelift surgery. It is impossible to predict the exact results of facelift surgery, and it is possible that the results will be disappointing or different than you expected.
Post-operative healing and scarring
If you have very short hair, you might want to let it grow out before the surgery to aid in concealing incisions.
How Is Facelift Surgery Performed?
The techniques used in facelift surgery have advanced significantly since the days of tightly stretched facial skin and visible scars. Today, surgeons take great care to securely tighten the face's underlying tissue and muscles along with the superficial layers of the face.
In the standard or traditional facelift technique, Dr. Perry works through an incision that is hidden in the hairline at the temple and extends to the front of the ear, around the earlobe, and back into the hairline. He will tighten sagging facial and neck muscles, and smooth the skin to a more youthful position, excising any excess. The skin is carefully sutured, and the surgeon may place a drain behind the ear to release fluid. If a neck lift is performed in conjunction with the facelift, the incision will be placed under the chin.
The mini facelift is also called the S-lift facelift, after the shape of the incisions, which follow the ear's natural curve and extend upward into the hairline. This incision allows Dr. Perry to tighten the muscles, tissue, and skin of the mid- and lower face. Just as in the traditional facelift, the mini facelift tightens the face's underlying structures and removes excess skin.
Risks of Facelift Surgery
The following list serves as an introduction to some of the risks of facelift surgery. You will have further discussion of the surgery's risks will take place during your pre-surgery consultations with Dr. Perry. The risks of mini facelift are generally milder when compared to traditional facelift, as the procedure is less invasive than the traditional facelift technique; however, in all cases you must be prepared for the possibility that complications can arise.
Bleeding and Hematoma
Facelift and mini facelift, when performed at our Sacramento practice near Roseville, are very safe surgeries. However, bleeding episodes or hematoma (fluid accumulation under the skin) can occur, and might require a return trip to the hospital.
Hair loss at incision sites
Hair loss may be temporary or permanent.
Numbness or injury to nerves that control facial muscles
This is usually temporary, but can be permanent.
Reactions to Anesthesia
Poor Healing
While the chance of poor healing can be reduced by not smoking and carefully following post-surgical instructions, it is impossible to predict.
Wide Scarring
In some cases, this may be corrected with further surgery.
Asymmetry
As no face is perfectly balanced, absolute symmetry is not to be expected after facelift surgery. In some cases, there will be marked asymmetry, which can make you disappointed with the results of your surgery.
Skin Necrosis (tissue death)
Complete Pre- and Post-operative Instructions for Facelift and Mini Facelift Patients
Dr. Perry has prepared this comprehensive list of instructions to make your facelift experience as smooth as possible. We recommend that you read them over as soon as your surgery day is scheduled, then print them out and bring them with you on your surgery day.
Facelift Instructions (printer-friendly)
To schedule a consultation or learn more about traditional or mini facelift, contact our practice.
*Individual Results May Vary