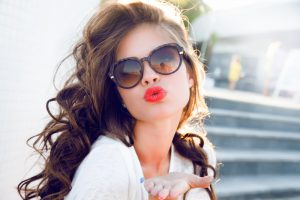 A multitude of non-surgical options are now available to help you create a fuller pout and a more sensual smile. Dermal fillers and other minimally invasive techniques offer great results, but they are temporary. If you want longer-lasting effects, Dr. Charles Perry offers a wide range of innovative techniques that can provide a beautiful outcome for many years. The right approach for you will depend on several factors, including your anatomic characteristics and your desired outcome. Dr. Perry will go over all your options during your initial consultation, at which point he can help guide your final decision.
Generally speaking, there are three surgical options for lip enhancement that offer extended results. The first is commonly called a Lip Lift. In this technique, a small amount of tissue is removed from above the upper lip to minimize distance between the nose and lips and to create a fuller-looking pout.
The second option is fat grafting. In this approach, fatty tissue is harvested from your body using liposuction and re-administered to the lips using targeted injections. This technique often requires a few visits to complete, but the results should be permanent.
Finally, the PermaLip® offers noticeable yet natural-looking augmentation using a special type of implant. Made of silicone and very soft, this procedure is another way of permanently adding volume to the lips.
It's also worth knowing that some of these techniques, particularly fat grafting and Lip Lift, can be combined for more dramatic enhancement. Talk to our medical team today to learn more.