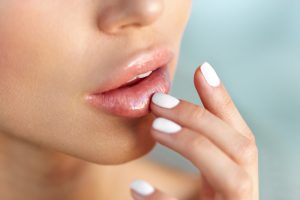 One of the most common requests from patients that our plastic surgeon hears is the desire for fuller, more youthful-looking lips. Fortunately, there are many treatments available to enhance the appearance of the lips, helping to reduce fine lines around the mouth and create a perkier pout. Dr. Charles Perry offers a wide range of options, including surgical and non-surgical options. During your initial consultation, he can help you determine which one can give you the look you've always wanted.
Fillers
The most popular lip augmentation techniques use dermal fillers to temporarily plump the lips. JUVÉDERM® VOLBELLA is a recently FDA-approved filler designed specifically to add volume to this area. Restylane® can also be used for this purpose.
Fat Grafting
Using your own natural tissue, Dr. Perry can enhance the fullness of the lips. This procedure is most commonly recommended if you're already undergoing liposuction and want to add facial rejuvenation to your treatment plan. It offers long-lasting results and can provide permanent effects.
Lip Surgery
Lip augmentation is a longer-lasting option for individuals who want a permanent solution.  In this procedure, a small section of the area above the lip and below the nose is removed to alter the proportions of the face for a more appealing aesthetic and to make lips appear fuller. Several techniques can be used, and fat grafting can also be added to this technique. Dr. Perry also performs PermaLip®, which uses a special implant to create a fuller pout.
If you have any questions about which approach might be ideal for your needs and goals, we hope you'll reach out to our skilled medical team for more information.