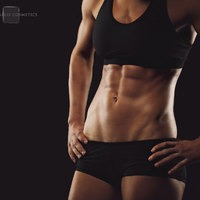 If you are dedicated to your bodybuilding training but are still coming in runner-up at competitions, cosmetic enhancement may be able to help you achieve your gold medal goals. Even with great discipline, some areas of the body may require greater definition than can be achieved with diet and exercise alone. Furthermore, extreme fat loss can have some unintended side effects for both men and women, potentially affecting your confidence and negatively impacting the stage presence portion of judgment. Dr. Charles Perry, our skilled plastic surgeon, recognizes that as a bodybuilder, your needs and goals are unique. Our comprehensive selection of surgical and non-surgical aesthetic enhancement treatments can be customized to suit your desired outcome.
Female bodybuilders, particularly competitive fitness models, often seek out breast augmentation to enhance their busts after extreme fat loss. Muscular and feminine need not be contradictory terms. The latest surgical techniques and breast implant options offer a wide range of shape, size, and material options for the most natural-looking outcome possible.
Both men and women can experience facial volume loss as a result of increasing mass and reducing fatty tissue. Non-surgical dermal fillers, including JUVÉDERM® and Sculptra® Aesthetic, can help to restore a more youthful fullness to the face, as well as reduce common signs of aging. This method doesn't require an extensive recovery period, which can get you back to competition faster.
If you lost a significant amount of weight to achieve your physique, excess skin may be an issue for you. Similarly, if there are stubborn pockets of fat that can't be addressed with diet and exercise alone, you may wish to reduce the tissue via liposuction for enhanced muscle definition.
For more information about cosmetic surgery for bodybuilding, or if you would like to schedule a consultation with Dr. Perry, please contact us today.