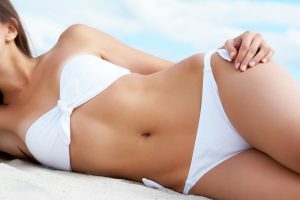 As one of the most popular body contouring procedures in the nation, many patients wonder if tummy tuck surgery might be right for them. Also known as abdominoplasty, this procedure can make the stomach area appear flatter and firmer, but it's not appropriate for everyone. Tummy tuck surgery can help individuals who primarily have concerns related to excess skin and muscle laxity on the abdomen. Excess fatty tissue in this area can also be addressed with the addition of liposuction. However, if you have minimal skin laxity and are more concerned with pockets of fat, abdominoplasty may not be necessary.
Tummy tuck surgery has many benefits, but it's important to understand what this procedure cannot achieve as well. Some limitations that patients should keep in mind are that abdominoplasty requires the patient to take time off from work and regular activities, usually about two weeks, to recover. You should also know that some scarring will occur, although it's usually well-hidden by clothing. If you prefer a non-surgical procedure, have serious medical issues, or have expectations that outstrip what can be achieved by this technique, tummy tuck surgery may not be an optimal choice. If you're uncertain whether abdominoplasty can help you achieve your goals, Dr. Charles Perry can evaluate your concerns and discuss your desired outcome to determine whether this or another technique would best suit you.
The best way to find out if tummy tuck surgery is appropriate for your aesthetic goals is to schedule a consultation. Talk to us today to learn more about your options.