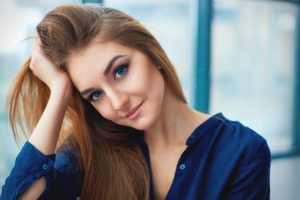 The eyes are often one of the first areas of the face to show signs of aging, but fortunately today there are many ways to minimize the effects of the aging process. Choosing between these many options can seem confusing at first; however, since each one has specific benefits, it's easier than you might think to find the right technique for your desired outcome.
The most common procedures to improve the eye area are eyelid surgery, cosmetic injectables, and brow lifts. Some people are surprised to learn that a brow lift can rejuvenate the eyes. In fact, brow lifts take weight off the forehead, often resulting in less sagging of the eyelids.
Eyelid surgery is a more direct approach that removes excess skin and fat from one or both sets of eyelids. This treatment can also improve your field of vision if excess eyelid skin is obstructing your eyesight.
Cosmetic injectables can be a great choice for diminishing the appearance of wrinkles, especially if you prefer a non-surgical approach. BOTOX® Cosmetic and dermal fillers can soften fine lines around the eyes and between the brows for a more youthful look.
So, are your concerns related more to the forehead, to sagging eyelid skin, to wrinkles, or to a combination of these conditions? We can help you develop a customized treatment plan that targets the issues you want addressed.