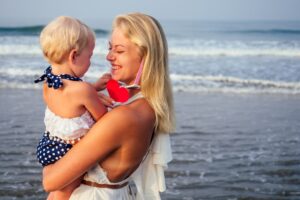 Mothers experiencing the less appealing physical effects of pregnancy, such as excess abdominal tissue or pockets of isolated fat, can often benefit from a comprehensive Mommy Makeover. This treatment can include multiple procedures to enhance and contour the post-baby body. Our board-certified plastic surgeon, Charles Perry, MD, customizes every Mommy Makeover to address the particular concerns of the patient, and can incorporate body, breast, and facial procedures into the treatment depending on the patient's goals.
Many of our patients ask, "When is the right time to get a Mommy Makeover?" While this is a very common question, the answer can vary. The general rule in the cosmetic surgery world is that mothers should wait a minimum of six months after giving birth to undergo a Mommy Makeover, as the body needs to "stabilize", or return to its regular hormonal and physical state, after delivery. That said, Dr. Perry urges patients to remember that every mother recuperates from childbirth according to her own timeline. As such, while some mothers may only need to wait six months, others may require a longer recovery period following childbirth.
Additionally, these factors should be considered before you decide it's time for a Mommy Makeover:
Whether or not you are breastfeeding. While Dr. Perry can often tailor certain breast procedures, such as a breast lift, to leave the opportunity for breastfeeding intact, he recommends that patients finish breastfeeding before they seek certain other treatments. This is because breastfeeding can interfere with the appearance of breast surgery results. In most cases, Dr. Perry will advise patients to stop breastfeeding for at least three months before undergoing breast surgery.
Whether you want to have more children. Dr. Perry usually suggests patients wait until they've had their last child before undergoing certain treatments, such as tummy tuck surgery, breast lift and liposuction. Because a tummy tuck aims to address stretched or torn muscles and tissues in the abdomen, another pregnancy is likely to distort the effects of the procedure. Similarly, weight fluctuations, which are a regular occurrence in pregnancy, can mar the results of breast lifting and liposuction and other treatments.
Your weight. In the case of most cosmetic surgeries, patients should be close to their ideal weight. As women generally gain a mild to moderate amount of weight during pregnancy, some mothers may be encouraged to reach a healthier weight before treatment.
Childcare. The combination of procedures that are often included in a Mommy Makeover can require at least a few weeks of recovery time. For this reason, Dr. Perry recommends that, before treatment begins, patients arrange for a family member or babysitter to watch the child throughout the healing process. If the child is too young or no childcare options are available to you, it may not be the optimal time for your Mommy Makeover.
If you have additional questions about your Mommy Makeover, contact Chrysalis Cosmetics to schedule a consultation today.