Meet Dr. Perry
Our Sacramento Cosmetic Plastic Surgeon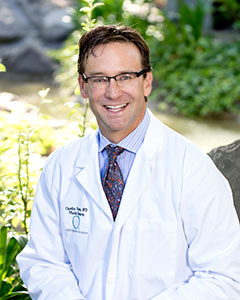 Our Sacramento cosmetic plastic surgeon, Dr. Charles Perry, works to enhance the lives of our clients by offering safe and effective procedures, superior products, and a supportive, caring environment. Read more about Dr. Perry below.
Educational Background
Undergraduate Education — University of Puget Sound ( Tacoma, Washington), B.A. in Chemistry
Medical School — University of Washington ( Seattle, Washington), M.D.
General Surgery Internship — Maricopa County Medical Center, ( Phoenix, Arizona)
General Surgery Residency — University of Arizona ( Tucson, Arizona)
Plastic Surgery Residency — University of Massachusetts ( Worcester, Massachusetts)
Professional Organizations
Certified by the American Board of Plastic Surgery
Diplomat of the American Board of Surgery
California Medical Association
Fellow of the American College of Surgeons
Member of the American Society of Plastic Surgery
Honors and Awards
Convocated into the American College of Surgeons (F.A.C.S.) (2007)
Leonard F. Peltier Chairman's Award for Resident Research: Percutaneous Tracheostomy Safety (2001)
Macdonald Wood Resident Trauma Essay Award: Maricopa Medical Center (2000)
Excellence in Medical Student Education: University of Arizona (1999, 2001)
Academic Honors: University of Washington (1993, 1994, 1995, and 1996)
Richard E. George, "Intern of the Year": Maricopa Medical Center (1998)
Positive Action Award: Pima Indian Medical Center (1997)
Volunteerism
Ecuador : Cleft lip and palate missions (March 2003 and 2004)
Plastic Surgery Educational Foundation (2004 to present)
Medical Outreach: Xaxli'p Indian Reservation (1995)
Other Interests
As a Sacramento cosmetic plastic surgeon concerned with the health, comfort, and results his patients achieve, Dr. Perry is interested in research that furthers patient safety. He stays current in new technologies that provide lasting cosmetic results with less downtime and discomfort to patients.
In addition, Dr. Perry, a native of Vashon Island, Washington, enjoys spending time with his wife, son, and daughter. His hobbies include fly fishing, golf, boating, long walks on the river, Pilates, and swimming.
Dr. Perry's Surgical Approaches
Each surgeon has a unique approach to cosmetic surgery. Reading about Dr. Perry's surgical philosophies below may help you decide whether he is the perfect surgeon for you.
Facial Procedures
When enhancing the appearance of the face, our Sacramento cosmetic plastic surgeon, Dr. Charles Perry, focuses primarily on mid-face restoration using soft tissue repositioning and volume enhancement. Using the deep soft tissue as a foundation, facial rejuvenation may then be occasionally enhanced through excess skin removal from the neck, eye, and brow areas. The texture of the skin is then improved, restoring complete facial harmony and revitalizing the overall facial appearance. Read more about our facial procedures such as facelift, browlift, eyelid surgery, and more.
Body Procedures
Dr. Perry's approach for improving body aesthetics after weight loss and childbirth is similar to his approach for completing facial procedures. First he focuses on restoring the underlying tissues to their original position, achieving the desired contour. Often this contour is further refined through liposuction, and in some cases the effect is augmented by the removal of any excess skin. Select procedures may be combined in order achieve the patient's comprehensive aesthetic goals, allowing patients to avoid the necessity for multiple operations and additional recovery time. Surgeries that are commonly performed at the same time include upper arm surgery and breast surgery, abdominoplasty and breast contouring, and abdominoplasty and liposuction. Liposuction and minor facial restoration surgeries may also be combined as well. Read more about our body contouring procedures.
Breast Procedures
In order to provide a natural, long-lasting look, Dr. Perry offers saline and silicone breast augmentation in the dual plane, which is located beneath the muscle and breast gland. Incisions may be placed around the perimeter of the areola, within the axilla (armpit), or along the breast fold.
Contact Sacramento Board Certified Plastic Surgeon – Dr. Charles Perry
At our Sacramento practice cosmetic plastic surgeon Dr. Charles Perry offers a full array of services for enhancing the appearance of the body, face, breasts, and skin, specializing in minimally invasive techniques, as well as post-bariatric plastic surgery. Explore our web site to learn more about the procedures we offer, or contact our cosmetic surgery practice today for a consultation.
Some commonly searched versions of Dr. Charles Perry's name include:
Dr. Charles Pery (M.D.)
Dr. Charles Parry (M.D.)
Dr. Charles Parey (M.D.)
Many of Dr. Perry's patients travel from near by cities seeking his expertise in plastic surgery procedures. For your convenience, we have provided directions from the following locations.