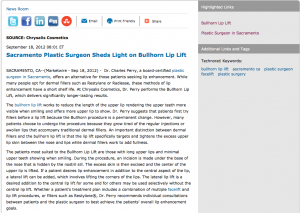 Sacramento, CA – Dr. Charles Perry, a board-certified plastic surgeon in Sacramento, offers an alternative for those patients seeking lip enhancement. While many people opt for dermal fillers such as Restylane or Radiesse, these methods of lip enhancement have a short shelf life. At Chrysalis Cosmetics, Dr. Perry performs the Bullhorn Lip Lift, which delivers significantly longer-lasting results.
The bullhorn lip lift works to reduce the length of the upper lip rendering the upper teeth more visible when smiling and offers more upper lip to show. Dr. Perry suggests that patients first try fillers before a lip lift because the Bullhorn procedure is a permanent change. However, many patients choose to undergo the procedure because they grow tired of the regular injections or swollen lips that accompany traditional dermal fillers. An important distinction between dermal fillers and the bullhorn lip lift is that the lip lift specifically targets and tightens the excess upper lip skin between the nose and lips while dermal fillers work to add fullness.
The patients most suited to the Bullhorn Lip Lift are those with long upper lips and minimal upper teeth showing when smiling. During the procedure, an incision is made under the base of the nose that is hidden by the nostril sill. The excess skin is then excised and the center of the upper lip is lifted. If a patient desires lip enhancement in addition to the central aspect of the lip, a lateral lift can be added, which involves lifting the corners of the lips. The lateral lip lift is a desired addition to the central lip lift for some and for others may be used selectively without the central lip lift. Whether a patient's treatment plan includes a combination of multiple facelift and lip lift procedures, or fillers such as Restylane®, Dr. Perry recommends individual consultations between patients and the plastic surgeon to best achieve the patients' overall lip enhancement goals.
In order to make sure patient recovery goes as smoothly and as quickly as possible, Dr. Perry urges patients to remain relaxed and let the body heal. A careful cleansing regime combined with an antibiotic ointment has most patients back to work after a week. Lighter skin color and thinner skin tend to heal quicker and with less swelling. At his Sacramento plastic surgery practice, Dr. Perry says it is rare for someone to require pain medication following the procedure and that most patients look their best within six weeks time.
About Charles Perry, MD
Dr. Charles Perry, a board-certified plastic surgeon, is a graduate of the University of Puget Sound and earned his medical degree at University of Washington. He has served as a resident in both general and plastic surgery and is a Diplomat of the American Board of Surgery. He is also a member of the California Medical Association, the American Society of Plastic Surgery, and a Fellow of the American College of Surgeons. In 2001, he received the Leonard F. Peltier Chairman's Award for Resident Research and in 2007, he was convoked into the American College of Surgeons (F.A.C.S.).
To contact Chrysalis Cosmetics, visit their website at sacramentoplastics.com or call 916-248-4447. The center's office is located at 3800 J Street, Suite 210, Sacramento, CA 95816. The center's Facebook page can be found at facebook.com/ChrysalisCosmetics.