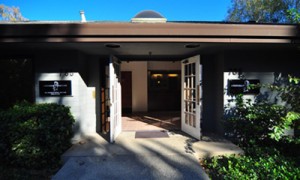 If you haven't been by our office since fall, Dr. Charles Perry and the staff at Chrysalis Cosmetics would sincerely like to welcome you to our new practice location at 785 University Avenue Sacramento, CA 95825. We are situated right off the American River in a serene, private setting. Using only the latest, state-of-the art equipment and technology, we're pleased to be able to offer patients our same standard of excellence in patient care, just in an enhanced environment.
"The location is convenient, with easy access to major freeways and surface streets in the greater Sacramento metropolitan area," says Dr. Perry. "The area is very quiet and peaceful, while being right in the heart of a major professional community. We love the privacy and accessibility for our patients. Furthermore, it is a ground floor location, so it is easy for our patients to get in and out, particularly pre- and post-surgery."
Another great perk? The wild turkey sightings! You may see quite a few of our cute, feathery friends nearby when you come in for your appointment. At Chrysalis Cosmetics, our mission is to make you feel as comfortable as possible as we help you achieve the look and feel that you desire. We hope that you will come see us soon in our new space!
Contact Chrysalis Cosmetics
If you would like more information regarding the cosmetic procedures and services we offer, or if you wish to schedule a private consultation with Dr. Perry, please contact us today.